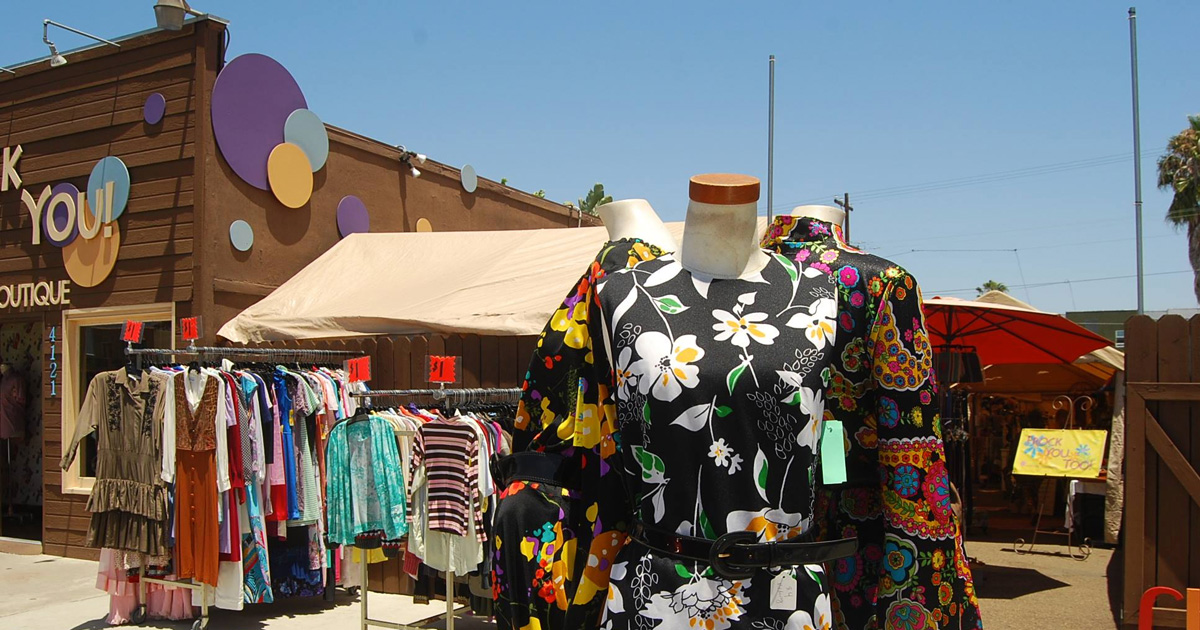 If vintage shopping is something you like to do while traveling, then San Diego will not disappoint. During your next visit, enjoy picking up some unique treasures from the past local vintage boutiques sprinkled throughout the San Diego's quaint neighborhoods. Here are five of my go-to favorites!
Vignettes
The entire block of Newport Avenue in laid-back Ocean Beach has some great antique stores to pop in and out of but Vignettes is one of my favorites! Once you step inside, you feel like you have traveled back in time to the faded grandeur of Old Paris. Vignettes hand selects unique pieces from antique sconces to vintage show-stopping mirrors, antique purses to classic jewelry. Before heading back to the future, be sure to check out the Chanel case!
Where: 4828 Newport Avenue, San Diego, California, 92107
> Find out more about Vignettes
Bad Madge & Company
Another one of my must-shop vintage stores is Bad Madge & Company. This darling boutique carries an abundance of fashionable items from the past as well as unique furniture pieces, art, accessories, and home decor pieces. The owner and her partners specialize in "picking" from estate sales, flea markets, and garage sales from all over. I shop here all of the time for special gifts both for myself and others! Bad Madge & Company is also located on one of my favorite shopping blocks, Fern Street in South Park.
Where: 2205 Fern St., San Diego, CA 92104
> Find out more about Bad Madge & Company
Antique Warehouse
Stroll through the aisles of antiques and treasures of everything you can imagine including books, jewelry, toys, trinkets, clothing, and furniture. Antique Warehouse is the place to just reminisce on the past while you wander or find that perfect antique that you can travel back home with.
Where: 212 S. Cedros Ave., Solana Beach, CA 92075
> Find out more about Antique Warehouse
The Girl Can't Help It
If you are on the search for the Golden Age of Hollywood glamour of the 1930's-1950's, The Girl Can't Help It is the one. This well-organized boutiques carries women and men's vintage clothing, accessories, shoes, jewelry, trinkets, and glassware. Lastly, their hat selection is one of the best.
Where: 3806 Grim Ave., San Diego, CA 92104
> Find out more about The Girl Can't Help It
Frock You Vintage
Frock You Vintage meticulously acquires a unique blend of clothing, shoes, and accessories for women and men from all eras from estate sales, thrift stores, estate liquidation sales, and collectors. They carry fabulous pieces from the 1920's to the 1980's and every era in between. Each piece has already been dry cleaned and washed so you could wear them right out of the store.
Where: 4121 Park Blvd., San Diego, CA 92103
> Find out more out Frock You Vintage