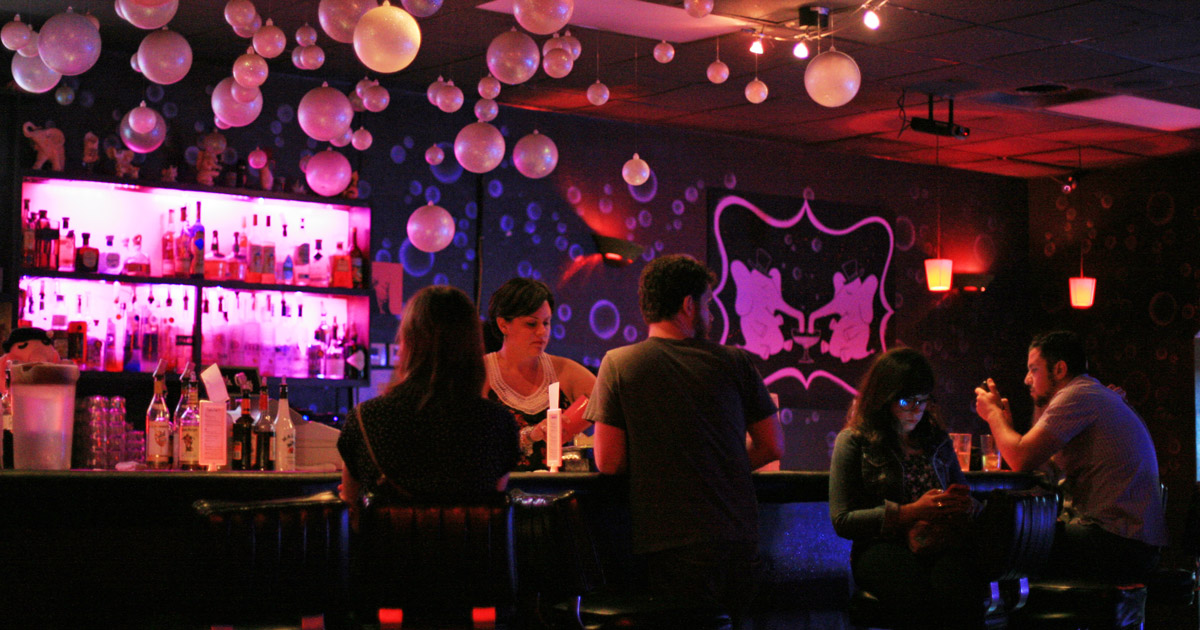 You can always tell the character of a city by the strength of its dive bars. And if those dive bars also happen to put on some great live shows, then all the better. In San Diego, there are a lot of open-air venues, historic theaters, renowned rock clubs and big stadiums. But a little off the beaten path are some of its most charming, inexpensive and fun places to see shows. Here are four small venues with live music that everyone should visit in San Diego.
Tower Bar
The Tower Bar is a piece of San Diego history. Originally opened as a soda fountain in 1932, the Euclid Tower has gone through several different incarnations, later becoming a cocktail lounge and eventually turning into the rock club that it is today. Identifiable by the art deco style pylon that juts out the top of the building (hence, the "tower"), it has a lot more charm than your typical dive, but it's still a mostly D.I.Y. punk bar where guitar slingers make beautiful noise throughout the week. Inexpensive drinks and a steady rotation of live rock bands make this a San Diego staple.
Where: 4757 University Ave., San Diego, CA 92105
> Find out more about Tower Bar
Til-Two Club
Just a little north of the Tower Bar in City Heights is the Til-Two Club, which lived a past life as the Beauty Bar. Since that club closed, the open-air stage area has been covered with a roof, which means cigarette smoke is no longer an issue. The calendar of events is just as impressive, however, featuring a diverse range of artists that span from psychedelia to funk to metal and ska.
Where: 4746 El Cajon Blvd., San Diego, CA 92115
> Find out more about Til-Two Club
Brick by Brick
Brick by Brick isn't necessarily a secret; it's been putting on live shows by local and touring acts for a couple decades. But it's situated in an unassuming corner in Linda Vista, on what's an otherwise quiet street in San Diego. Inside, however, the place is boisterous and active. Recently purchased and reopened by members of local metal band Wovenwar, Brick by Brick has become a local haven for metalheads, though it's the site of many noteworthy shows in any genres. It's also a much more spacious club than it seems from the outside, so no matter how loud it gets, there's still plenty of breathing room.
Where: 1130 Buenos Ave., San Diego, CA 92110
> Find out more about Brick by Brick
Bar Pink
Known just as much for its colorful décor and delicious tiki drinks (the Sneaky Tiki lives up to its name, so pace yourself) as it is for its live music, North Park's Bar Pink is a low-key venue that just happens to be the source of a lot of really amazing shows. When Rocket from the Crypt reunited in 2012, they played an unannounced preview show here (the band's John Reis is a co-owner). And last year, Jimmy Eat World's Jim Adkins played a solo acoustic set to a packed house. Not that every night is so high profile. In fact, Bar Pink mostly features local bands, and without a cover charge at that. It's the comfy neighborhood bar that just happens to feature some great music.
Where: 3829 30th Street, San Diego, CA 92104
> Find out more about Bar Pink