Superfan Matt Schulte along with San Diego Padres legend Trevor Hoffman recently journeyed through the tasty side of Petco Park. The whole fan experience, including the eatery options, is different in San Diego.
Below are a few of the local options you can experience both inside and outside of Petco Park.
Pizza Port: A Local Legend
In 1987, Pizza Port opened in Solana Beach and quickly became the place for classic and creative pizzas in the sleepy beachside town. In 1992, Pizza Port took a big leap forward by adding a brewery to their operations and have been brewing award-winning craft beers
ever since!
Today, beers like Swami's IPA and Chronic Amber Ale are found almost everywhere. However, if you're catching a game at Petco Park, make sure to order the park exclusive Walk Off Wheat to complement that Artichoke & Garlic Pizza you're about to chow down on.
Locations Outside the Park:
Pizza Port Carlsbad – 571 Carlsbad Village, Carlsbad, CA 92008
Pizza Port Ocean Beach – 1956 Bacon St., Ocean Beach, CA 92107
Pizza Port Solana Beach – 135 N. Highway 101, Solana Beach, CA 92075
Pizza Port Bressi Ranch – 2730 Gateway Road, Carlsbad, CA 92009
Phil's BBQ: A Messy Masterpiece
Since opening up it's first location in Mission Hills in 1998, Phil's BBQ, regularly Voted Best BBQ in San Diego, have served up more than 1 million gallons of it's signature BBQ sauce smothered over mouth-watering meats. It's by this author's estimation that more than half of that BBQ sauce has been served inside of the popular Broham pulled pork sandwich. Though the Ribs & Chickless probably makes up the rest!
Locations Outside the Park:
Point Loma – 3750 Sports Arena Blvd., San Diego, CA 92110
San Marcos – 579 Grand Avenue, San Marcos, CA 92078
Santee – 9816 Mission Gorge Rd., Santee, CA 92071
Seaside Market: Deliciously Addictive
Named #1 Gourmet Grocery Store in San Diego, Seaside Market is famous for it's Tri-Tip sandwich, affectionately known as "Cardiff Crack".
Location Outside the Park:
2087 San Elijo Ave., Cardiff-by-the-Sea, CA 92007
Hodad's: Two hands Needed
Grilling up San Diego's Favorite Burger since 1969, Hodad's is a local and lengendary institution. When dining at the Ocean Beach hotspot (or the newer downtown location), make sure to follow the recommendation stated above – Two Hands Needed at all times. These burgers are massive! If you're feeling adventurous, order the Guido Burger dedicated to fan and Hodaddy Guy Fieri. And if calories don't matter for the day, follow up that burger with a classic milkshake so large, Hodad's serves it up in the milkshake glass and the metal malt cup!
Locations Outside the Park:
Ocean Beach – 5010 Newport Ave., Ocean Beach CA 92107
Downtown – 945 Broadway, San Diego CA 92101
Rimel's Rotisserie: Naturally Awesome
Rimel's followed the farm-to-table movement 20+ years before it became cool! They're so local, the San Diego restaurant's signature Mahi Mahi Fish Tacos use local, fresh caught fish from it's own Ranch & Fish Co grilled over local oak.
Locations Outside the Park:
Cardiff-by-the-Sea – 2005 San Elijo Avenue, Cardiff-by-the-Sea, CA 92007
Del Mar – 12955 El Camino Real Suite G-2, San Diego, Ca 92130
La Jolla – 1030 Torrey Pines Road, Suite E, La Jolla, CA 92037
2016 Major League Baseball All-Star Week & Game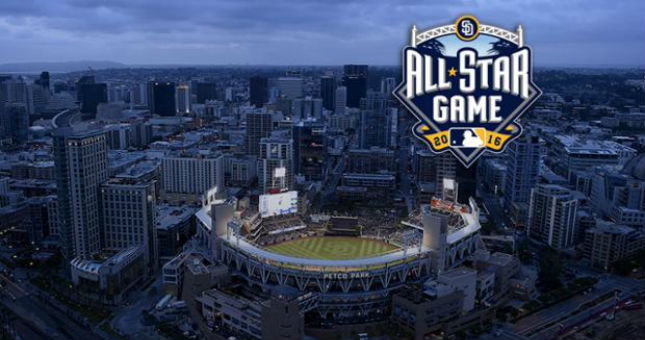 The 2016 All-Star Game will mark the third time that the Padres will serve as hosts of the Midsummer Classic, with Petco Park joining Jack Murphy Stadium (previously known as San Diego Stadium) as a host of the festivities. The All-Star week's events will include the All-Star FanFest, All-Star Sunday, Soul Pose MLB All-Star Yoga, The Color Run MLB All-Star 5K and more!
When: July 8-12, 2016
> Find out more about the 2016 Major League Baseball All-Star Week & Game
Even More Local Restaurants and Breweries in Petco Park
The Patio in Left Field
Stone Brewing Company
Anthony's Fish Grotto
The Draft by Ballast Point
Home Brew Mart – 5401 Linda Vista Road, Suite 406, San Diego, CA 92110
Little Italy – 2215 India St., San Diego, CA 92101
Scripps Ranch – 10051 Old Grove Rd., San Diego, CA 92131
Miramar – 9045 Carroll Way, San Diego, CA 92121
Baked Bear
Pacific Beach – 4516 Mission Blvd., Suite C, San Diego, CA 92109
Carmel Valley – 5950 Village Center Loop Rd., San Diego, CA 92130
Carmel Mountain – 11640 Carmel Mountain Rd., Suite 120, San Diego, CA 92128
La Costa – 1610 Via Campanile, Suite 142, Carlsbad, CA 92009
Lucha Libre Taco Shop
Mission Hills – 1810 W. Washington St., San Diego, CA 92103
North Park – 3016 University Ave., San Diego, CA 92104
Ryan Bros. Coffee
Headquarters – 1894 Main St., San Diego, CA 92113
San Marcos – 133 N. Twin Oaks Valley Rd., San Marcos, CA 92069
San Diego Airport – Terminal 1 & 2, San Diego, CA 92101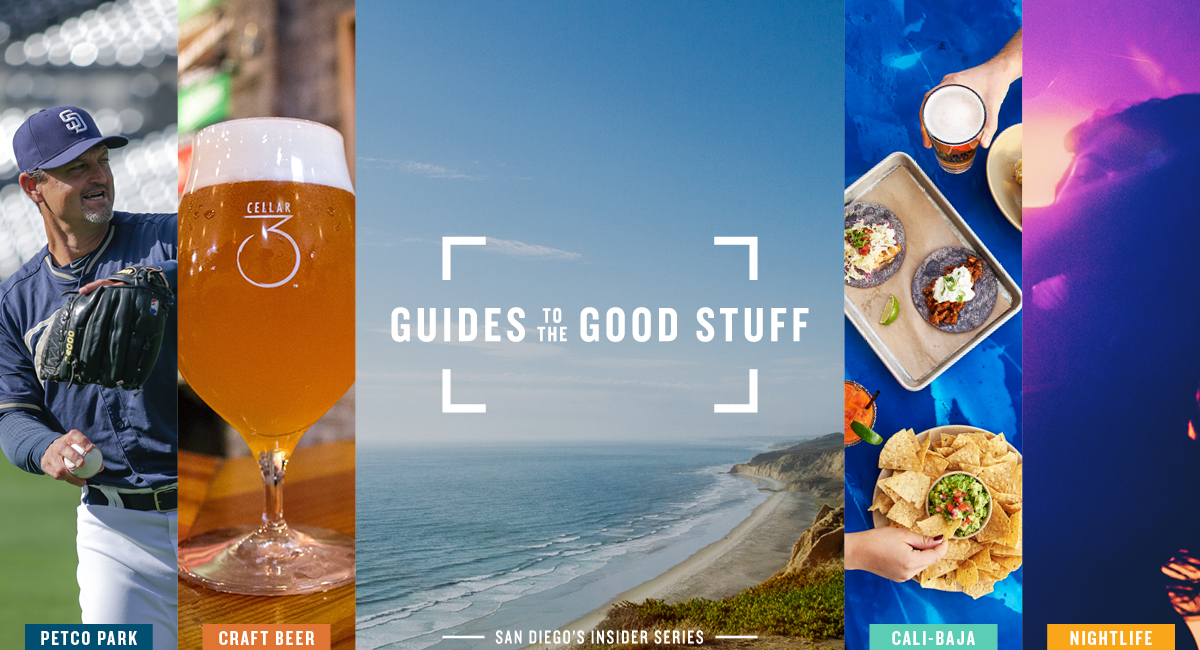 Map of Petco Park's Local Options