All across town, museums and galleries are rolling out fresh new shows. You can see an entire New York apartment made of fabric at the downtown location of the Museum of Contemporary Art San Diego, covet elegant kimonos and graceful soba cups at the Mingei International Museum in Balboa Park, or find yourself dwarfed by a sperm whale skeleton nearly 60 feet long at the San Diego Natural History Museum, also in Balboa Park.
Below are three must-see exhibitions that reflect San Diego's distinctive artistic character, where a combination of international diversity and tech savvy create an arts experience you won't want to miss.
Taping Shape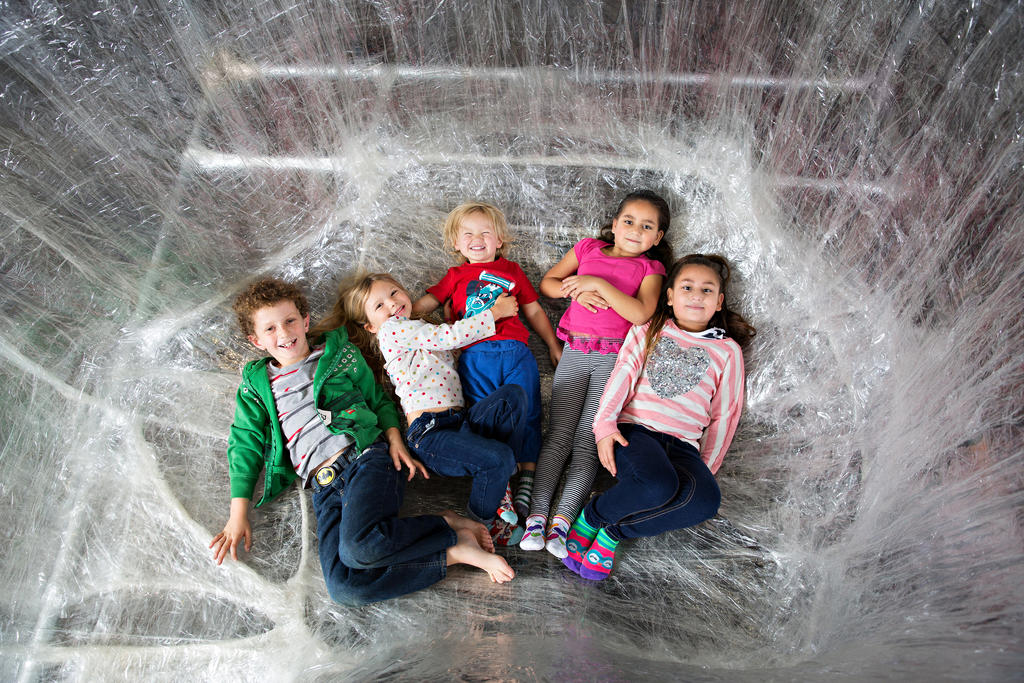 This art installation has a secret superpower: the ability to turn adults into giggling kids. Created by local artist and engineer Dave Ghilarducci, a team from the Center for Research in Mathematics and Science Education, and loads of volunteers, "Taping Shape" is constructed from more than 660 rolls of clear packing tape – that's more than 22 miles of tape! It fills two of the Fleet's galleries with oversized tunnels and slides, suspended in midair and illuminated with ever-changing colored light. As you move through the flexible structure, you can learn about toroidal polyhedra and Schwarz-P surfaces. Or you can just bounce off the walls, literally.
Where: Reuben H. Fleet Science Center – 1875 El Prado, San Diego CA 92101
When: Through June 12, 2016
Cost: Included with admission
> Find out more about Taping Shape
Cathedrals
With so many scientists here, you'd expect to find someone experimenting with the structure and form of music. "Cathedrals" goes a step further, adding a visual art spin. Bay Area new media artist Jeff Ray collaborated with students and faculty from San Diego State University's Composition Laboratory to create a multi-sensory installation melding electro-acoustic music, altered photographs and video. Ray says he wants viewers "to be on a journey – the feeling of exploring space and sound."
Where: San Diego State University Downtown Gallery – 725 W. Broadway, San Diego CA 92101
When: April 7 – June 12, 2016
Cost: Free
> Find out more about Cathedrals
Brush and Ink: Chinese Paintings from The San Diego Museum of Art Selected by Pan Gongkai
Acclaimed contemporary artist Pan Gongkai was given the keys to the collection. Choosing from more than 200 Chinese paintings in the museum's vaults, he curated a selection of 40 works that trace the evolution of brush and ink painting from the 15th century to the present. Visitors will recognize the highly detailed style and delicate tonal range associated with traditional brush and ink but might be surprised by the bold graphics and brilliant colors of artists such as Zhang Daqian, who was inspired by the Tang dynasty and 20th century abstract expressionism. Works include hand scrolls, hanging scrolls, fans and Gongkai's own massive painting, "Noble Virtues," commissioned by the museum in 2015. It includes four poems in his characteristic calligraphy, pairing classical techniques with contemporary Western practices.
Where: The San Diego Museum of Art – 1450 El Prado, San Diego CA 92101
When: April 29 – September 4, 2016
Cost: Included with admission
> Find out more about Brush and Ink