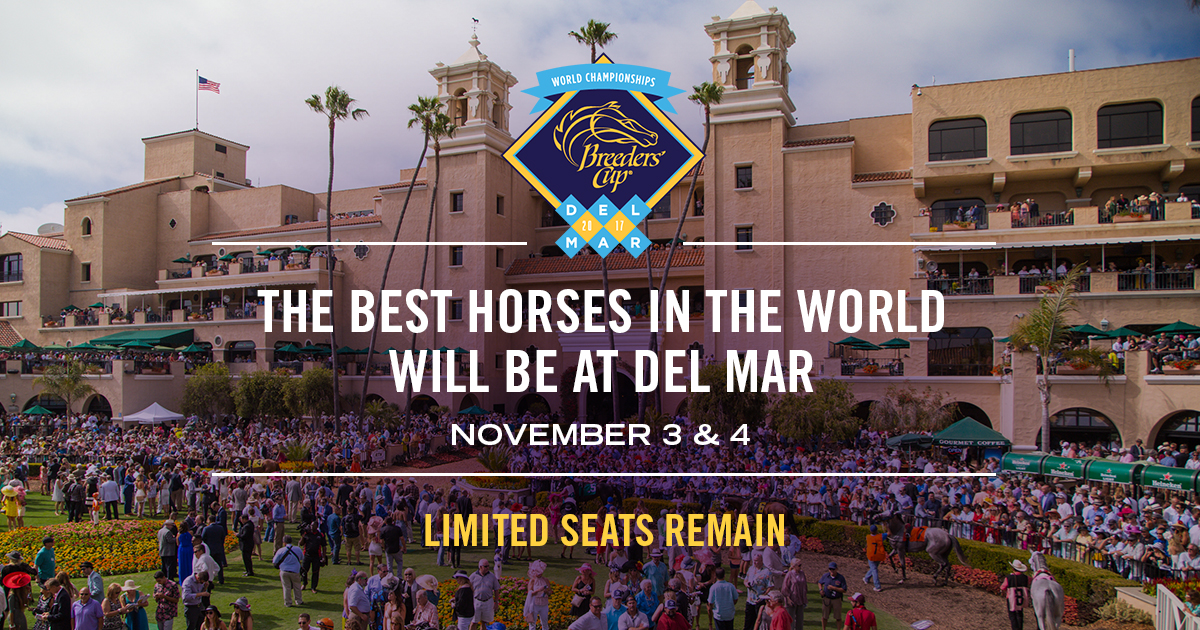 The 34th Breeders' Cup World Championships comes to Del Mar for the first time ever on Friday, November 3 and Saturday, November 4, 2017. The beautiful Del Mar racetrack will host the sport's richest event, 13 championship Thoroughbred horse races worth more than $28 million, attracting the best racehorses, trainers, and owners from around the globe. But there's more to Breeders' Cup – a week of festivities, fun, and events add to the thrills found on track.
What is the Breeders' Cup
Since 1984, the world's best in Thoroughbred racing have competed at the Breeders' Cup. Beginning as a one-day event with seven races, the Breeders' Cup has grown into a two-day horse racing extravaganza that has seen legends born, history made, and fortunes won. The 2017 Breeders' Cup will be held at the Del Mar racetrack just north of San Diego.
Attend the Breeders' Cup
Limited tickets are available for the Breeders' Cup. Experience Taste of Breeders' Cup: San Diego with an Infield GA ticket. Two-day gourmet dining tickets are available in the Seabiscuit Skyroom and the Trackside Chalet.
How to Watch and Wager
The Breeders' Cup will be broadcast live on NBC Sports Network and NBC on November 3 and 4. Visit the Breeders' Cup Watch page for a complete viewing schedule.
To get a bet down on the Breeders' Cup, visit TwinSpires.com or visit your local simulcast facility.
Join in the Breeders' Cup Festival
For the first time ever, the Breeders' Cup will run where the turf meets the surf. The Breeders' Cup Festival is a week-long celebration of the event running from October 28 to November 4. Join us for Breakfast at Breeders' Cup, racing at Del Mar on Wednesday and Thursday, and the La Jolla Art Walk. Seek out the vibrant Breeders' Cup Art of the Horse, 20 life-sized sculptures of racehorses placed throughout the San Diego area, designed by local artists inspired by Thoroughbred racing and the local culture.
[su_button url="http://www.breederscup.com/vip-tickets" target="blank" style="flat" background="#df7627″ color="#ffffff" size="7″ wide="yes" center="yes" icon="icon: ticket" text_shadow="1px 1px 1px #ff6345″]Get Your Tickets Now[/su_button]