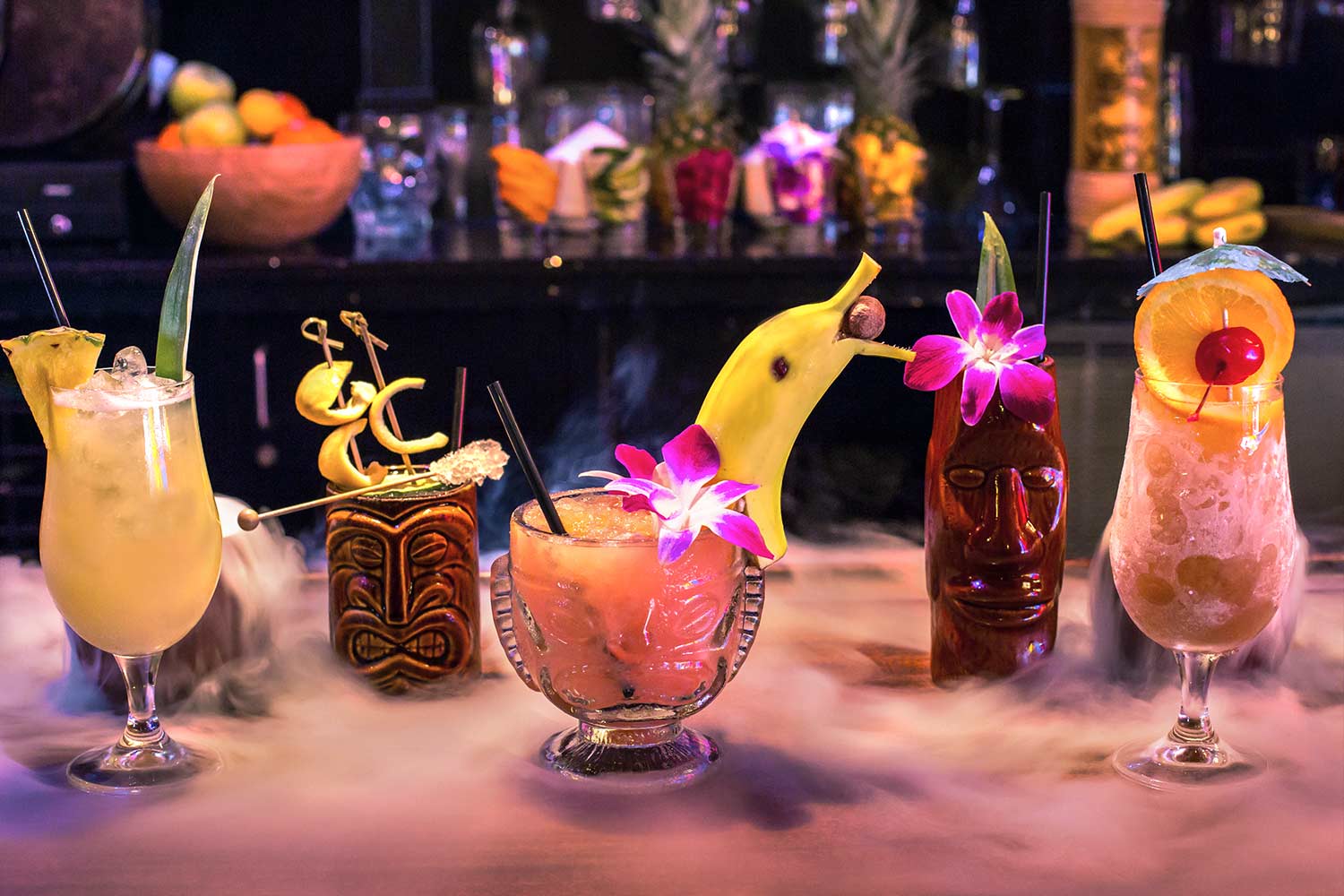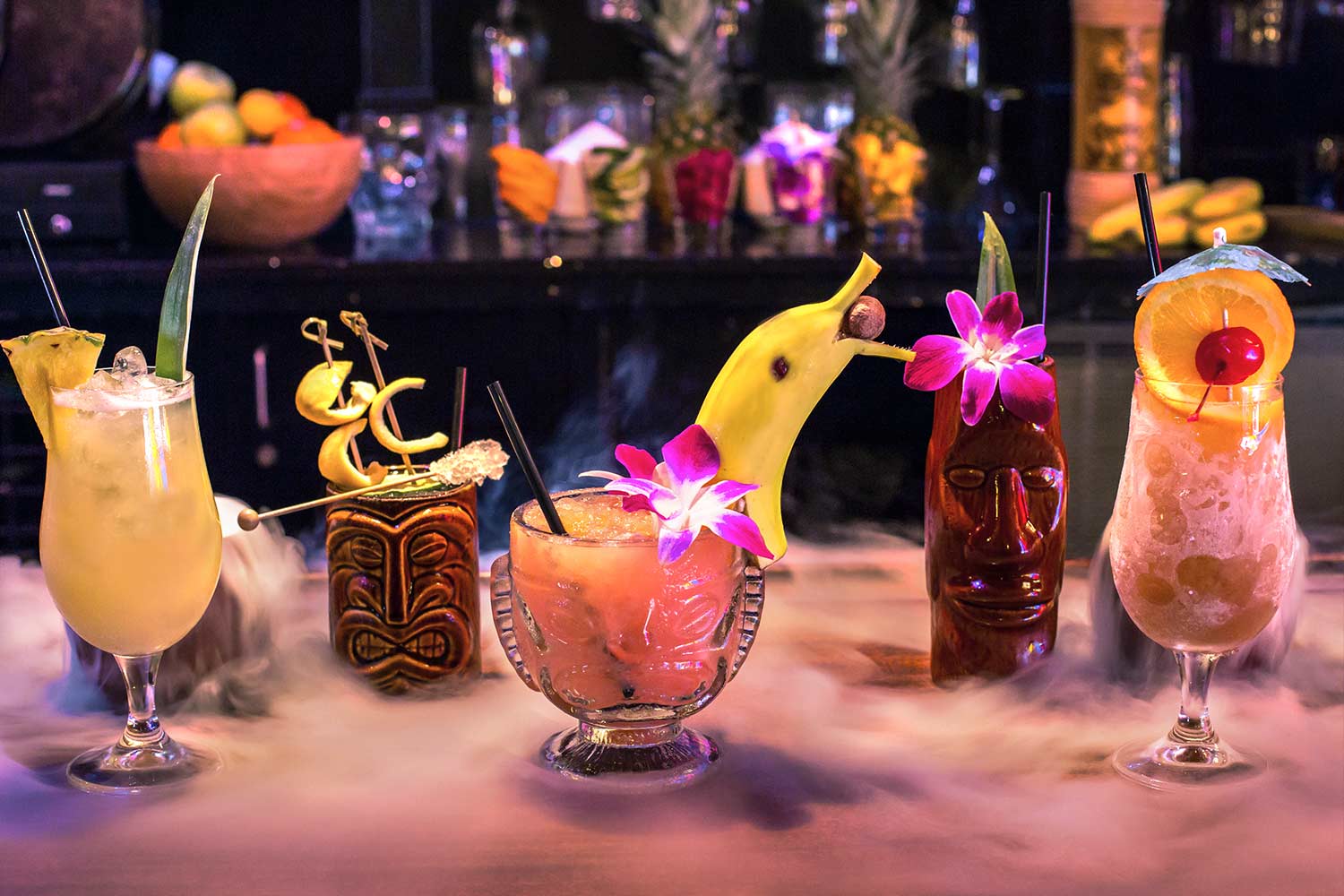 Exotic rum punches and smoking volcano bowls. Flower leis and fruit garnishes. Kitschy décor and flaming torches. Palm trees and palapa huts. Handcarved idols and Hula girls. Kool kats and kittens. The rummy Mai Tai stands as the anchor cocktail of tiki's "hep retro" culture, but there's also Zombies, Grogs, PainKillers and Scorpion Bowls, just to name a few.
San Diego's tiki roots go way back to the 1950s with tiki evidence found in the architecture, art, bar scene, menus and more. And a new influx of tiki-style watering holes and eateries have recently opened their doors in San Diego celebrating this exotic lifestyle with its boozy beverages and Polynesian-inspired eats.
Old Favorites
Bali Hai Restaurant
A naval town and gateway to the Pacific, San Diego has long embraced all things tiki. Bali Hai, on Shelter Island, set the tiki tone in 1954 as a Polynesian paradise, replete with hardcarved sculptures, Polynesian artifacts, tapa cloths, and Mr. Bali Hai ceramic mugs cradling potent, rum-infused Mai Tais. Their Pacific Rim-style menu spotlights beautiful fresh fish, poke, Hamachi, papaya and shrimp salad, and more.
Where: 2230 Shelter Island Dr, San Diego, CA 92106
> Find out more about Bali Hai Restaurant
Crowne Plaza San Diego
Crowne Plaza San Diego (formerly the Hanalei Hotel) in Mission Valley is another mid-50s Mecca for tiki as it hosts the annual Tiki Oasis Convention each summer (August 18-21), drawing the country's largest gathering of tikiphiles for pool parties and tropical fun.
Where: 2270 Hotel Circle N, San Diego, CA 92108
> Find out more about Crown Plaza San Diego
The Catamaran Resort Hotel and Spa
This Mission Bay resort boasts island-inspired architecture, tropical gardens, koi ponds and a tiki torch-lit outdoor bar called Moray's, a winsome spot for a Mai Tai and some sushi. The resort also hosts summertime luaus – Polynesian feasts with music, hula and torch dancers.
Where: 3999 Mission Blvd, San Diego, CA 92109
> Find out more about the Catamaran Resort Hotel and Spa
Kona Kai Resort & Spa
Kona Kai Resort & Spa inspires more tiki-style fun with its thatched-roof tiki bar and poolside cabanas for mojitos and Mai Tais. Belly up the bar for a Perfect Storm – Black Magic rum, ginger beer and lime – which pairs nicely with chef's seafood poke, plump with tuna, salmon, and shrimp in sesame ginger ponzu with taro chips.
Where: 1551 Shelter Island Dr, San Diego, CA 92106
> Find out more about Kona Kai Resort & Spa
San Diego's New Wave of Tiki
Cat Eye Club
While myriad bars and lounges are slinging tiki-style cocktails all over town, the Cat Eye Club offers up one of the best local tiki experiences in San Diego. Set in the East Village, a neon green tiki sign welcomes guests into the low-lit swanky lounge-think retro 50s-style, mod, pop culture tiki with its Mondrian glass wall, tiki carvings, fern wallpaper, lava lamps, and swimming fish on a flat screen.
A gorgeous hand-drawn menu helps imbibers navigate the map of fun libations with everything from Mai Tais on tap to artful group drinks like Goonies Gone Wild that arrive in treasure chests with billowing dry ice smoke and kitschy garnishes like golden coins and candy. Their cat-with-giant-eyes ceramic mugs are stylish, fruits garnishes outrageous and drinks super potent with various rums. 
As owner and dedicated tikiphile Frank Miller likes to say, "Tiki is an aloha state of mind. It's vacation or an exotic escape from reality." Cat Eye Club's tropical tiki vibe is furthered enhanced by live music, karaoke weekly and island-inspired nibbles like tasty salmon poke with toasted quinoa and sesame seeds. Their must-try machetes–elongated quesadillas (housemade corn tortillas stuffed with kalua pork, manchego, and pineapple habanero salsa) – are delish.
Where: 370 7th Ave, San Diego, CA 92101
> Find out more about the Cat Eye Club
Kindred
South Park's revved-up vegan restaurant Kindred hosts "Permanent Vacation" Thursdays, a pop-up, tiki takeover with tropical elixirs and eats. Expect a rotating menu of nuclear rum drinks with fresh juices from bar whiz David Kinsey and Polynesian bites like orange miso-glazed seitin with grilled pineapple and a mango sweet potato aioli dipping sauce. Orchids and mid-century Exotica music add to the ambiance.
Where: 1503 30th St, San Diego, CA 92102
> Find out more about Kindred
The Nolen
The new high-design rooftop spot, The Nolen, has a tiki menu with five colorful refreshers like their Painkiller on draft with pineapple, orange, rum, coconut and freshly grated nutmeg. Or order up an off-menu Junglebird from their spirit savant, bar lead Andrew Larson. He will create a little fire element to the rum and Campari drink by igniting cinnamon. Bar grub like carnitas-jalepeno-salva-verde flatbreads or chili-glazed meatballs over Idaho potato frites soak up the rum.
Where: 453 6th Ave, San Diego, CA 92101
> Find out more about The Nolen
The Grass Skirt
The owners of Little Italy's social hub, Kettner Exchange, also have tiki on the brain. The Grass Skirt, their Polynesian-styled speakeasy, will descended upon Pacific Beach with a daytime poke eatery out front.
Where: 910 Grand Ave #101, San Diego, CA 92109
False Idol
Undergoing a redesign, Craft & Commerce in Little Italy will be home to False Idol, a high-design tiki bar featuring classic drinks nodding to old school tiki haunts like Trader Vics and others, curated by rum-meister Martin Cate. Their Coronado Luau Special features aged pot still rum with VSOP Armagnac, Grand Marnier, orgeat, fresh orange and lemon juice, a recipe originally created at the Luau Room at Hotel del Coronado, circa 1940s. Chef JoJo Ruiz will dish out a protein-hearty menu centered around Craft & Commerce's new custom wood-fired grill.
Where: 675 W Beech St, San Diego, CA 92101
It's no wonder tiki is alive and well in sunny seaside San Diego – who doesn't love good food, potent rum drinks in funny mugs, and uplifting music in a tropical ambiance. Exploring San Diego's tiki culture and scene reveals that it's not just a trend or lifestyle, it's a state of mind.