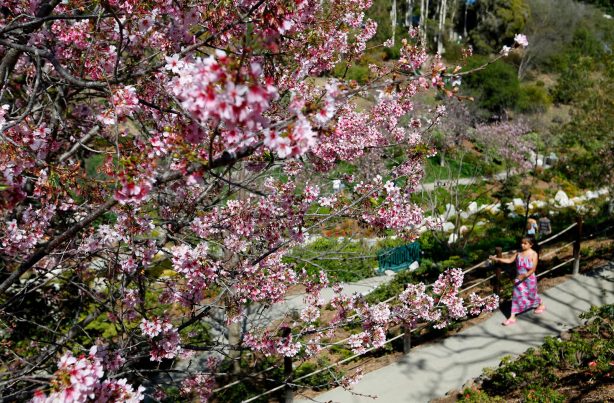 From Cherry Blossoms to butterflies, here are 8+ things to do in San Diego this weekend that are worth the trip.
When: March 22 – April 28, 2019
Where: The Old Globe – 1363 Old Globe Way, San Diego, CA 92101
Britta Johnson's Life After is a bittersweet, witty, and life-affirming new musical that explores the mess and beauty of loss and love. Through the vivid imagination of a young woman looking for the facts, we find a more complicated truth instead. The Old Globe's Barry Edelstein directs the American premiere of this rapturously beautiful and stirring new musical from a composer the Toronto Star calls "a startlingly talented emerging voice." BroadwayWorld dubs Life After "musical theatre perfection…exquisite from start to finish."
When: March 22-24, 2019
Where: Japanese Friendship Garden of San Diego – 2215 Pan American Way E, San Diego, CA 92101
This year marks the Japanese Friendship Garden of San Diego's 14th annual Cherry Blossom Festival! Each day will be accompanied by various food vendors, cultural performances and demonstrations, and a plethora of family friendly activities!
When: March 22, 2019
Where: SDCCU Stadium – 9449 Friars Rd, San Diego, CA 92108
Come see the Mexican National Team play Chile at SDCCU Stadium.
When: March 23 – May 12, 2019
Where: San Diego Zoo Safari Park – 15500 San Pasqual Valley Rd, Escondido, CA 92027
Walk through the Butterfly Jungle, a greenhouse filled with butterflies of all colors and sizes. There's a special thrill in being surrounded by these fluttering beauties—and guests wearing bright colors may find the winged wonders perching on them!
When: March 23, 2019
Where: Embarcadero Marina Park South – 200 Marina Park Way, San Diego, CA 92101
Wanderlust 108 – The World's Only Mindful Triathlon is an all out celebration of healthy living in your favorite local park. This day is all about community, bringing together a 5K run/walk, an outdoor yoga experience, and a guided meditation.
When: March 23, 2019
Where: Santee Lakes Recreation Preserve – 9310 Fanita Pkwy, Santee, CA 92071
Come to enjoy good food, lively entertainment, and a beautiful spectacle of twinkling lights with your family and friends. 1000 Lights Lantern Festival is an experience you don't want to miss
When: Thru April 28, 2019
Where: SeaWorld San Diego – 500 SeaWorld Dr, San Diego, CA 92109
Foodies and craft beer aficionados will love SeaWorld's Seven Seas Food Festival, featuring craft beer from favorite local breweries, plus fresh international cuisine infused with local, sustainable ingredients and unique signature flavors from around the world.
When: Thru April
Each year, more than 20,000 gray whales make a 10,000-mile round-trip journey from Alaska to the lagoons of Baja California, where the females give birth to their calves. With 70 miles of coastline directly in the migration path, San Diego is an ideal destination to see this impressive parade of gentle giants.

More Top Things to Do in San Diego