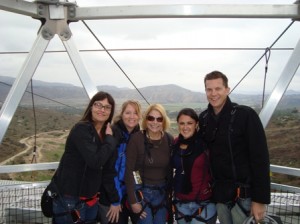 Here's your chance!
As you may recall, back in May I told you about the new Flightline zip-line adventure at the Wild Animal Park. You know, the one where you soar 400 feet above animals, flying at about 40+ miles per hour?
Well recently, some of my fellow bloggers and I took it upon ourselves to test out the Flightline adventure to ensure our trusted readers the highest quality and most accurate information. (It's a tough job but someone's gotta do it, right?)
Check it out!
Here's what we thought…
I've  been on a few zip lines at summer camp, but the experience on Flightline makes the others look like child's play.  The entire experience from beginning to end is great, and goes well beyond the couple of minutes you spend zipping down the cables. I had the responsibility of wearing the helmet cam which meant I looked like a complete dork, but the footage was a fun reminder after the fact.
For $29 you can rent a helmet cam, and after the ride they'll give you the video file on a flash drive, well worth it in my book because it is so unique.
The most vivid memory of the flight was looking down at a mamma rhino and her baby as I zoomed overhead, there literally is nothing else like that. — Brian
 
Maybe it's just me, but being over 400 feet off the ground gives me the heebie jeebies!  Heights just aren't my thing and after I was strapped in to the zip line, just sitting there looking down, the anticipation and nerves had me going.  But then with a simple count to three, I was off!  And I was flying over rhinos, antelope and giraffes, and the soaring sensation was so surprisingly peaceful and serene.  It was such a great experience, an amazing adventure and I definitely recommend it! — Stephenie

I'm not scared of heights but I do have a rather keen – and logical – fear of jumping off very high things.  High dives?  Um, rather not.  Bungee jumping?  No way Jose.  Cliff diving?  Once was more than enough, thank you very much.  Luckily, Flightline is a "extreme" experience that requires absolutely no bravery or actual jumping.  Count me in.  Sure, the height is intimidating but the views are well worth it.  And, all you have to do is just sit back and relax in your comfy harness and let your guide hit the release lever.  Like most things, the anticipation is the sweetest part.  When you round the corner and see the massive tower looming ahead your heart starts beating like mad and it doesn't stop until well after you've flown across half the park, stared down at a herd of antelope and landed gracefully (or not). — Kate B.