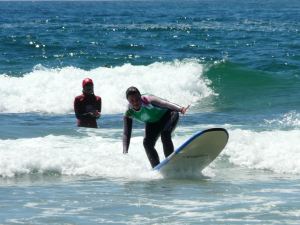 As some of you know, I won a group surf lesson with Surf Diva via the San Diego Convention and Visitor's Bureau website.  Surf lessons? Me? BWAHAHA!  But in the spirit of Embracing the Crazy this summer (it's been a doozy!) I did just that.  I took the challenge and just went for it. 
My family and I take an annual trip to San Diego every year as part of a family reunion on my husband's side.  We are both native Californians, attended SDSU and lived in San Diego for some time, so it's a great time catching up with family and friends.  We now live with our two munchkins (ages 6 & 4) in what I call the "Kinda Country", in the Shenandoah Valley in Virginia.  Kinda the antithesis of San Diego.  After I won the free lesson I decided to add that to our agenda for this year's Big Fat Summer Vacation.
Now saying your going to take a surf lesson and doing the actual lesson were two totally different things.  In my mind, I was pumped and excited. yes! I'm doing something totally out of my mommy comfort zone!  Something for me– not for my husband or kids. Just me.  I was going to be like Gidget, one of my all time favorite movies.  I had visions of long boards, my Moondoggie and being under the watchful eye of the Big Kahuna.  With me me surfing perfectly, of course.
Flash forward to the big day.  The grandparents took our munchkins to the San Diego Zoo allowing us a kid-free day together. Bonus! My husband and I found the Surf Diva store and checked in.  I was also informed that I would get 20% off everything in store.  Double Bonus! After we checked-in we took a little stroll down to the beach to find our spot: the pink tent, of course. This was Surf DIVAS after-all.
Panic was starting to set in.  What in the world did I get myself into?!? I really, REALLY shouldn't be here.  I don't even have the right bathing suit.  My cute mommy-at-the-local-pool skirt/halter top ensemble was really not appropriate under-a-wetsuit fashion.  But seriously, I hadn't even thought about that.  Moving right along to my next anxieties… being the biggest and oldest in the class.  Winner, winner, chicken dinner!  I was both.  My "classmates" were all way younger, like 20.  save for one other mom in the bunch.  and she was gorgeous. of course.  Our instructors were exactly what you would expect: cute, surfer chicks. good grief…
We each had a wetsuit picked out for us ahead of time (you give them your weight and height.)  Getting my cute mommy-at-the-local-pool skirt/haltertop ensemble under the wetsuit was a bit of a challenge, think full body Spanx, and I was left with a large unattractive bulge.  Fabulous.  But I did it.  I mustered through it.
We also had a gigantic, not so Gidgetish longboards on the sand in front of us.  We learned how to paddle and how to pop up while still on the beach.  And then something magical happened.  I forgot to be self conscious and nervous.  I started talking to the other mom next to me.  And then I started talking to the 20ish girl on the other side of me. And we laughed about what we were doing and how silly we felt.  And we were ALL nervous.  And then I realized how nice our instructors were. like super nice. deep breath.  I can do this.
Apparently we all did well enough to advance to the water.  ACK!  Again…what in the world did I get myself into??  At least my mad mom-skills came in handy here.  I could carry that huge board on my hip like nobody's business.  Once I got in the water, I shuffled my feet as instructed and focused.  Eye on the prize, baby. 
Our instructors were fabulous.  They set us up, got us situated and pushed us off for dear life.  Our bright-green rash guard wearing group soon became a pretty tight-knit unit.  We were cheering each other on and helping one another as much as we possibly could.  A bit of the Blind leading the Blind, but thankfully our faithful Diva Surf Leaders were ALWAYS close by. 
I won't lie and say it was easy.  It wasn't.  I rode plenty of waves where I was off balance, or didn't pop up to my feet, or whatever.  I wiped out, bit it and tumbled in the waves multiple times.  But the proof is in the puddin.
I did it!  I got up!!  [insert me squealing, clapping and jumping up and down here]  And it was fabulous.  It felt wonderful, amazing, fantastic and everything else wonderfully amazing you can think of.  As my inner Gidget would say, Honest to goodness it's the absolute ultimate!
Above all, I was proud of myself for doing something uncomfortable. Something a little scary. Something that my friends thought I was crazy for doing.  Something that challenged my norm.  Something completely different on our annual trip to San Diego.  Don't get me wrong, I love Sea World, Rubios and Balboa Park, but surf lessons? THAT made this trip all the more special. 
Many thanks to my fellow bright-green rash guard wearing crew and my wonderfully nice and supportive Surf Diva instructors— you guys rock! 
*********
Lisa Spector is a stay-a-home-mom of two munchkins and a part-time volleyball widow to her college coaching husband, Greg. Together they live in the Shendandoah Valley, VA and are embracing the Kinda Country lifestyle of small town livin' and eating local, whole foods. Follow her adventures at www.lunzygras.com