Do you love visiting San Diego? Really love it? Then enter to win our sweepstakes and you could win a 5 night stay at the Hilton San Diego Bayfront Hotel and airfare for two! And as the big winner, you'll have five whole days to enjoy all that San Diego has to offer. Never been to San Diego or interested in trying something new? Here's how I would spend my five days highlighting the outdoors and our amazing beaches.
Waking up each morning at the Hilton San Diego Bayfront Hotel will provide inspiration as you plan your day. The hotel, located on the waterfront, features sun and sea inspired design and a casually sophisticated design.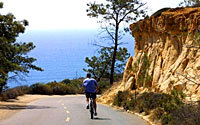 Day 1: Explore trails while overlooking the ocean
Hike Torrey Pines State Reserve or take a guided tour. Among the eight miles of trails, guests can encounter native chaparral plants, wildflowers, birds, reptiles and butterflies. My favorite trail is the beach trail. During low tide, you can take the stairs down to the ocean and walk between the ocean and cliffs.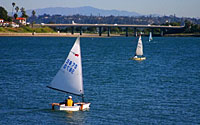 Day 2: Set sail on the San Diego Bay
Strap on your sea legs and rent a sailboat in Coronado from Seaforth Rentals. Choose from over 200 rental boats, including boats for sailing, cruising, skiing and fishing, jetskis, speedboats, fishing charters, sunset sails.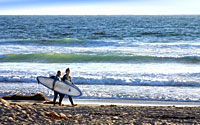 Day 3: Cruise the boardwalk in Pacific and Mission Beach
The favorite hangouts of active young sun-worshipers, Pacific Beach and Mission Beach are connected by a three-mile boardwalk crowded with inline skaters, skateboarders, runners and bikers – and beachgoers just wanting "to be seen." End your stroll by walking to the end of the Crystal Pier for a beautiful coastline view.

Day 4: Take a sunset kayaking trip and witness the sun dip into the Pacific
Try Hike Bike Kayak's popular Sunset Paddle Tour, where you'll kayak along the La Jolla sea caves and ecological reserve during a beautiful sunset on the Pacific Ocean. Expert naturalist guides provide insights and fun facts about the amazing environment.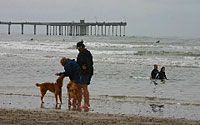 Day 5: Hang out in Ocean Beach – doggies included!
Ocean Beach is one of San Diego's prime surf spots. The neighborhood is also popular for its kid-friendly tide pools, long wooden pier that is perfect for fishing and Dog Beach, where even the tail-wagging members of the family can play Frisbee and romp in the surf.
Enter to Win a 5-night hotel stay and two round trip airfare tickets here!