The birthplace of California Cuisine may be attributed to Berkeley, but San Diego chefs are pushing the envelope of culinary innovation, fusing the freshest local ingredients with unexpected influences, and creating dishes that are as unique as the destination itself. Restaurant Week is the perfect opportunity to take in some of the freshest and most inventive flavors that San Diego has to offer.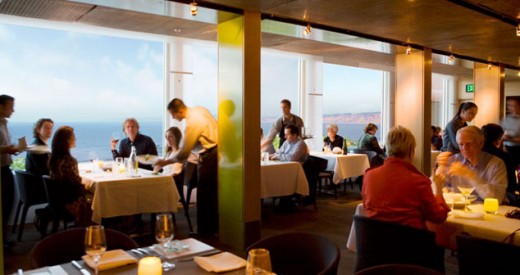 George's California Modern
If you look up "California" or "seasonal" cuisine, there should be a photo of Trey Foshee. For over a decade, the award-winning chef of George's California Modern has been reinventing California Cuisine season after season, creating dishes that you just can't find anywhere else. Using ingredients that are only at the peak of season, the menu changes as offerings at local markets do.
From the Restaurant Week menu, I would recommend starting with the Chino Farms Tomato Salad. What is likely the highest honor for a tomato, perfectly vine ripe picks from Chino Farms are presented with fresh basil and artfully prepared eggplant romanesco. For the main course, go with the Local White Seabass served with artichokes, baby leeks, fennel, pan con tomato, all finished in black olive oil and preserved lemon, this dish will have you savoring the last bit of San Diego's summer. End with the Souffle Cheesecake that'll make you want to lick the plate (but please don't). The combination of rich cream cheese ice cream with the deep flavor of matcha streusel, all balanced with the sprite fragrance of yuzu curd and sweet Chino Farms strawberries, this fresh take on the classic soufflé will make your taste buds soar.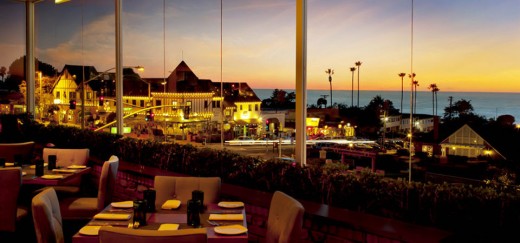 FLAVOR Del Mar
This is the perfect occasion to try Del Mar's hottest new restaurant. Nestled atop Del Mar Plaza with a pitch perfect ocean view, dining at FLAVOR is a full sensory experience. Acclaimed chef Jason Maitland offers a youthful and inspired approach to California Cuisine, creating a simple, yet unique blend of flavors and fragrances that are as fresh as the Pacific breeze.
Kick off your meal with the Tiger Prawn Ceviche, done up FLAVOR style with a confetti of cherry tomatoes, capers, cucumber, feta cheese. For the main course, try the Slow Cooked Scottish King Salmon, served with an immaculate ginger-soy sauce that perfectly complements the sweet and tender salmon. For dessert, go for the sweet and creamy Corn Panna Cotta, served with crème Anglaise, macadamia nut brittle, and white peach sorbet.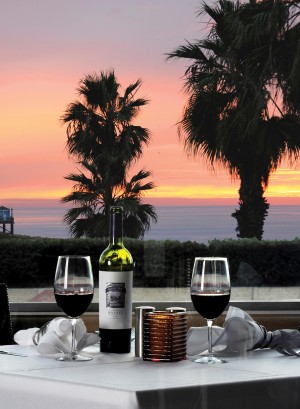 333 Pacific
Before acquiring my deep knowledge of California Cuisine (last week when I got this assignment), my impression of it was the classic Surf-n-Turf: succulent seafood and savory steaks, complemented with the finest California wines, enjoyed over sweeping ocean views in a pair of flip-flops. It turns out I wasn't too far off. If you're looking for the best Surf-n-Turf experience, seek no further than Cohn Restaurant Group's inspired pier-front establishment in Oceanside, 333 Pacific.
After a walk on the Oceanside pier, warm up with the Sweet Potato Bisque with peppar vodka cream that'll have you glowing like the sunset view from their patio. For the main course, go for 12-ounce Boneless Ribeye, an immaculate cut grilled to perfection, served with fried leeks and horseradish mashed potatoes. If you're in the mood for a fresh catch from the surf, try the Pecan Encrusted Sea Bass with edamame bean succotash and roasted fingerling potatoes. And for dessert, what could be more classic than a Cinnamon Apple Tart, à la mode?
San Diego Restaurant Week ends Friday, September 23, so get out there treat your senses to San Diego's best California Cuisine!