My 4 year-old daughter LOVES the garbage truck. When she hears them rumble down our street, her eyes light up in frenzy as she runs outside to witness the ceremony of collection. She is mesmerized by the arms of the green beast as it reached out for the monstrous bin, heroically lifting it overhead and pouring out our magnificent waste. Waving at the garbage men, who are superheros in her eyes, they wave back, smile and then drive away. Her fascination with the waste disposal process came full circle with Toy Story 3, when Woody's crew find themselves in the incinerator. A terrifying scene (which brought me to tears as well), she now carries an acute awareness of what happens to trash after it's picked up. She refuses to throw her toys away even when they break, mending them with  band-aids and keeping them in a toy hospital in her room. While our home slowly caves in with the accumulation of toys, we are faced with the same conundrum as our planet.

The New Children's Museum taps into this fascinating and important issue of waste with the timely and relevant exhibition TRASH opening this Saturday, October 15, 2011. The exhibition aims to educate children and families about the nature of trash and the complexity of related issues. Aligned with the museum's mission, the exhibition intends to empower children and families to become change agents in their own households and communities. Comprised of 13 interactive exhibits by 12 international artists, each addresses trash as topic or material, exploring issues ranging from the social and environmental impact of waste, the aesthetic appeal of the materials, and seeing trash as an inexpensive and vital resource.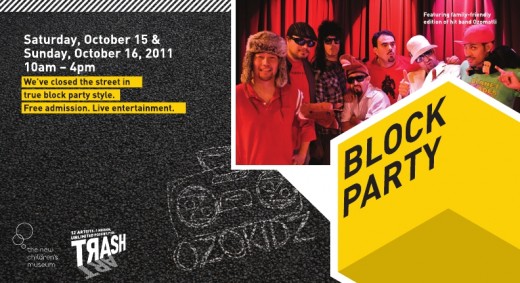 The exhibition is slated to run for two-years, beginning this weekend with a series of opening festivities at the museum's downtown San Diego location. There will be a block party celebration on Saturday, October 15, with a Member's Only Preview from 8:00 – 11:00 am, and a street fair free and open to the public from 10:00 – 4:00 pm featuring kid friendly entertainment by award-winning performers, food truck fare and interactive demonstrations. The celebration continues on Sunday, October 16 with Hispanic Community Day in honor of Hispanic Heritage Month, featuring Latino cultural performances and bilingual programming. On both days, families will have opportunities to explore the new exhibition, and visit information booths from environmental organizations.
My daughter is totally stoked about this exhibition (or maybe she's just excited about having pancakes at Richard Walker's before we hit up the block party on Saturday.) One thing is certain: we will be converting the toy hospital into an adoption agency to alleviate our mounds of injured toys, donating what we can and recycling the rest.
For more information on this exhibition, related programs and interactive online discussions, visit: www.thinkplaycreate.org