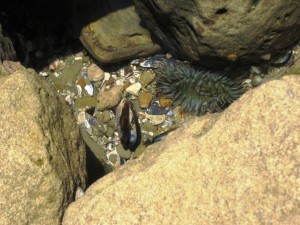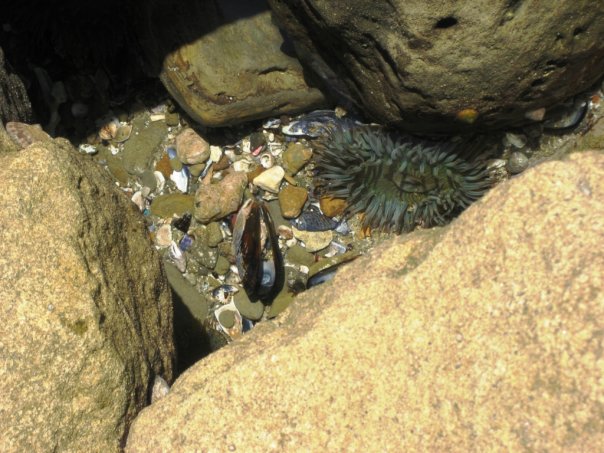 One of my favorite activities to do with the kids is exploring San Diego's many tide pools. They love seeing what might be hiding between the rocks. The best time to see these little creatures are from late fall through early spring as low daytime tides reveal wider beaches and pools teeming with native marine life such as hermit crabs, sea hares and sea anemones. Check the surf report to make sure the tide is low, a 1.0 foot tide or lower is Ok, but you will have a better chance of seeing more marine plants and animals when the tide is minus. Below is a list of my top spots for tide pools in San Diego.
1. Cabrillo National Monument: The rocky shore at the park has a lot to offer and the hermit crabs are abundant. In the mid-interidal zone you can also see very large Great Owl Limpets. There is a small entrance fee, however the rangers are helpful and will explain marine life and help visitors observe the animals.
2. Ocean Beach: There is a small tide pool area at the foot of Newport Avenue under the Ocean Beach pier. Visitors can find shore crabs, hermit crabs and sea anemones, and lots of small chitons in depressions in the sandstone rocks.
3. Shell Beach, La Jolla: This little beach has a good tide pool area at low tide. It is at the south end of Ellen Browning Scripps Park in La Jolla at the bottom of the small cement stairway. The big attraction here is Seal Rock Preserve, a big rock offshore where seals and sea lions come to rest and sun themselves.
4. Swami's: North on Pacific Coast Highway from Cardiff State Beach is Swami's. There you can find 45 million year old fossil shells in the hard sedimentary rock, oysters being the most common here. During a good low tide, the tide pools reveal an extensive flat area, and you have a good chance of seeing sea hares, brittle stars and octopi.
5. Dike Rock: This is a rocky area just to the north of Scripps Pier in La Jolla. To reach this area, you do have a bit of a walk, but it's worth the time. Here you have a good chance of spotting a star fish or an octopus on a good minus tide.
Let us know if you have other favorites around town!
Another great way to see tide pools is to join the Birch Aquarium at Scripps. Starting November 11 and running through February, you can explore along with aquarium naturalists the many tide pools around San Diego. On November 11, they will be exploring Dike Park. Birch will also be going to False Point and Hospital Point. You can also check out their permanent tide pool outside on the patio. Be sure to bring your camera!