[youtube http://youtu.be/DkB98EB_cWY]
When thinking of James Bond, I think of sophistication, gadgets, fast cars, exotic and tropical locations, and the jetpack opening from Thunderball. While I may never have an exploding pen, be able to afford an Aston Martin DB5 or have the constant need to wear a suit (my San Diego wardrobe usually consists of flip-flops!), I was able to fly like James Bond with a water-powered jetpack flight over Mission Bay from Jetpack America.
Prepping for My Jetpack Flight
Once I checked in, the Jetpack America crew gave me a quick 20-minute overview of the Jetlev water-propelled jetpack including a short safety video and a run-through on a demo unit.
Within a few minutes, I had learned all the basics of my upcoming jetpack flight, such as take-off, landing, elevation control, turning and hovering. Now it was time to test my knowledge with a real world flight.
Soaring Above the Waters of Mission Bay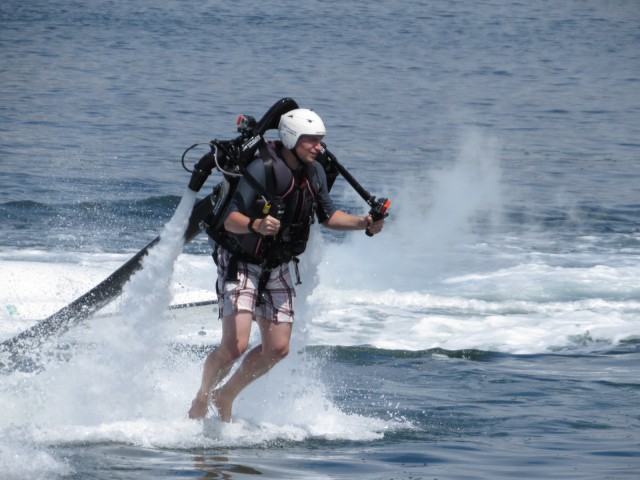 After the crew strapped me into the Jetlev and went through the controls and safety procedures one last time, I waded out into the chest deep water and listened for instructions from the ground crew. Thankfully, the crew will control the throttle and talk to you (there is a speaker and microphone in the helmet) throughout the first flight.
My ground crew slowly raised the throttle and I started to move through the water so that I could test out my turning ability. Once they were satisfied, the crew turned it up a notch and within seconds I was walking on water!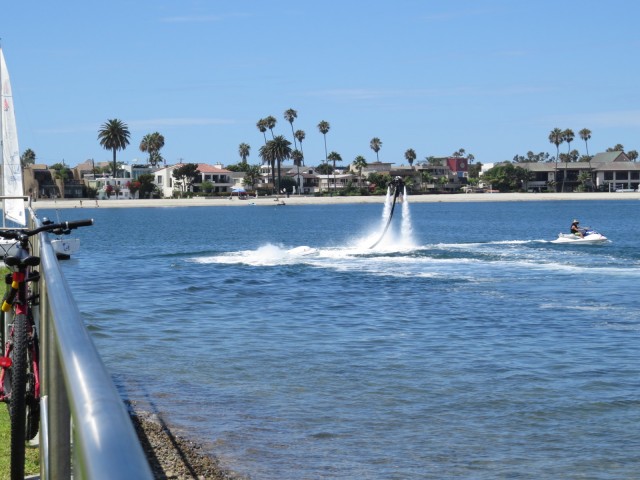 After a few "running laps," I knew I was ready for something a little higher. Once I was in a good position, the ground crew turned it up to 11 and I shot up to about 15 feet above the water. The rush of flying was absolutely amazing!
For those braver than me, the jetpack can reach a height of 30 feet or about 3 stories.
The jetpack even works underwater and I "swam" below the surface in what they call a submarine maneuver.
The flight did have to come to end at some point and my ground crew guided me back to the shore while slowly lowering me into the water. Even as walked on dry land, I was still flying from the adrenaline rush and humming the James Bond theme in my head!
Jetpack Flights Offered
So are you ready to fly above Mission Bay? Jetpack America offers flight times ranging from 15 to 50 minutes. I flew on the 20 minute flight and felt is was perfect for the first time out.
If you fly more than once, the crew will provide pilots with additional instruction to master the advanced techniques of walking on water, figure-8 turns, hands-free flying, donut turns, 30-foot hovers, dock landings, etc.
For an additional fee, Jetpack America will also film your flight with a few water-proof GoPro cameras and take pictures for posting on Facebook, Twitter, etc. And let's face it, you will want those pictures to show off your amazing adventures during a vacation in San Diego!
Jetpack America Information
Where: 1010 Santa Clara Place, San Diego, CA 92109
Phone: 888.553.6471
Cost: $149-$549 (as of October 2013)
> Book Your Flight with Jetpack America
P.S. When the crew says millimeter movement of the controls, they mean it. Also, on the cooler months, it would be advised to wear a wetsuit (which they can provide) because the water can get chilly.