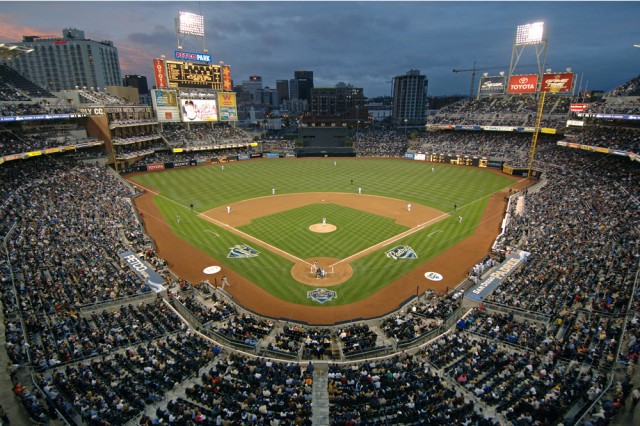 Spring is finally here and that means it's time to put on the ol' Padres baseball cap, pick up a box or two of cracker jacks and head downtown to the beautiful Petco Park for an afternoon or evening America's pastime in San Diego!
Padres Opening Day
To kick of the 2014 season, the San Diego Padres will take on their heated rivals, the Los Angeles Dodgers on Sunday 30 March with first pitch at 5:05 PM.
While Sunday's Opening Day game is already sold out, there is still plenty of fun happening around the park. Just pop into any one of the pubs/bars/restaurants in the East Village or Gaslamp Quarter to cheer on the Padres with plenty of fellow fans. Or you could enjoy the festivities at the East Village Block Party.
Tickets are still available for the Tuesday and Wednesday games.
East Village Block Party
At this free, family friendly event, enjoy local craft beer from Mission Brewery, Monkey Paw, and Stone Brewing Co., live music, local restaurants, line dancing on J Street brought to you by Bub's @ The Ball Park, Blind Burro and Moonshine Flats, and much more. Also – The Moonshine Honeys & Friends will be leading a flash mob at 1:30 PM in front of Bub's!
This family friendly event features East Village restaurants and hotels including: BASIC Kitchen & Pizza, East Village Tavern & Bowl, Hotel Indigo, and more.
Where: J Street Between 6th and 10th
When: March 30, 2014
Time: 10:00 AM to 7:00 PM
Cost: Free
> Find out more about the East Village Block Party
What's New in Petco Park
If you are one of the lucky few with opening day tickets or if you are attending a later game, there are a few exciting new things happening inside of Petco Park.
Rimel's Rotisserie will open on the top of the Western Metal Union building
The famous Lucha Libre Taco Shop will open a stand on the field level
Hodad's and Bumble Bee Tuna will have new food stands at the Park at the Park
The big screen is 50% larger for those watching the game from the Park at the Park
Don't forget to compliment the new delicious food offerings with a cold local beer from either the Ballast Point Beer Garden (Toyota Terrace) or Craft Beers of San Diego (Sections 109, 213, and 301).
Hat Tip to Gaslamp Ball for news on the new additions.