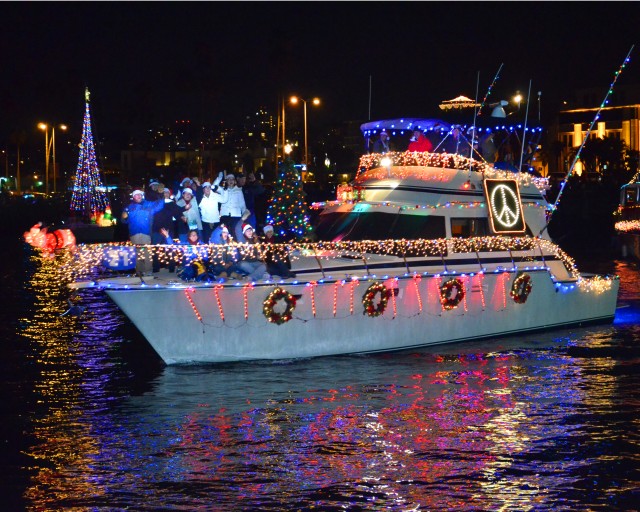 For those of you making holiday plans to visit San Diego, following are a few fun and festive ways to make some merry on San Diego's sparkling Big Bay.
43rd Annual San Diego Bay Parade of Lights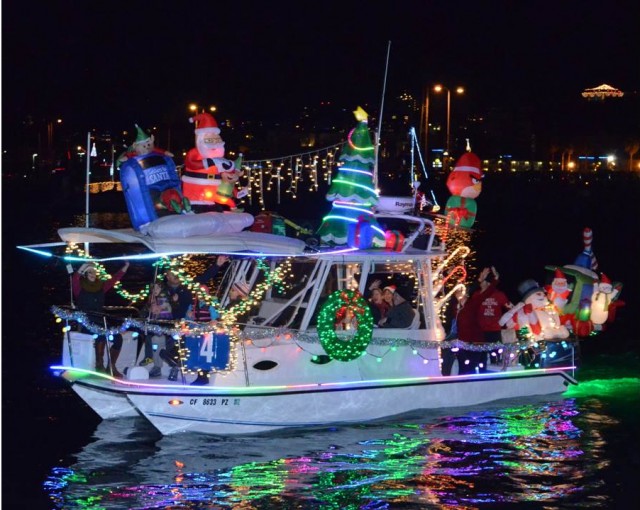 What's better than a cool holiday boat parade? Two holiday boat parades! Yep, the 43rd Annual San Diego Bay Parade of Lights takes place on two Sundays next month. More than 80 boats lavishly decorated from bow to keel with colorful twinkling lights and decorations will glide the waters of San Diego Bay.
It's quite a spectacle and best part, it's free! This year's theme is "Children's Stories" which is sure to be a hit with the kids. Check out the route map here. The procession starts at 5:30 PM, but head to the Bay early for prime viewing spots including the Embarcadero and Embarcadero Park (North & South), Seaport Village, Coronado Ferry Landing, Harbor Island and Shelter Island.
When: December 14 & 21, 2014
Time: 5:30 to 7:30 PM
Cost: Free
> Find out more about the San Diego Bay Parade of Lights
Port of San Diego's Big Bay Balloon Parade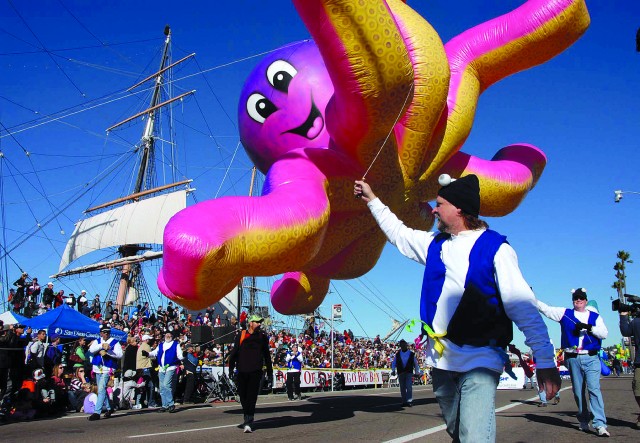 Check out the Port of San Diego's Big Bay Balloon Parade, "America's Largest Balloon Parade" floating down Harbor Drive along the Embarcadero. And who knows, you might be on TV! The parade is televised nationally and on local Channel 4. You'll see world-class marching bands, colorful floats, drill teams and of course, a procession of enormous balloons of familiar cartoon and pop culture characters. Over 100,000 spectators are expected!
The parade is part of our big annual National University Holiday Bowl festivities when the eyes of the nation are on San Diego for exciting gridiron action between two Pac-10 and Big 12 Conference teams.
Where: San Diego Embarcadero – W Cedar Street, San Diego, CA 92101
When: December 26, 2014
Time: Parade starts at 3:00 PM
Cost: Free. Grandstand Seats – $20
> Find out more about the Port of San Diego's Big Bay Balloon Parade
Whale Watching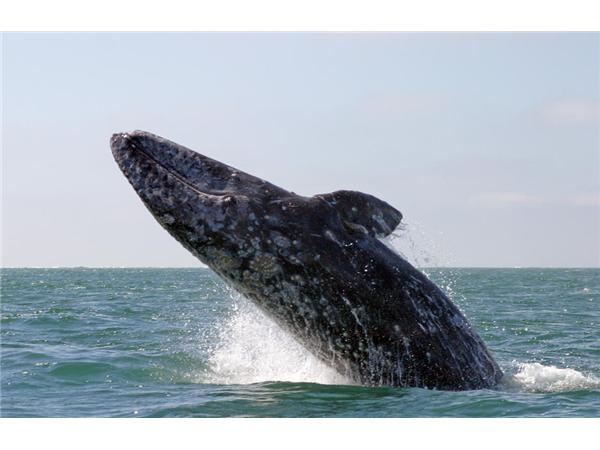 December is the launch of San Diego's exciting whale watching season, when hundreds of majestic California gray whales are spotted of the coast making their annual migration from the Arctic to the warm lagoons of Baja California. These "peaceful giants of the sea" can be seen swimming our local waters through April. Hop aboard the Hornblower, Flagship Cruises or one of the many other whale watching cruises departing daily from the Embarcadero on San Diego. The whales can also be seen from high atop Cabrillo National Monument on Point Loma – bring your binoculars, though! 🙂
> Find out more about Whale Watching in San Diego
Make some waves on San Diego Bay this holiday season!