I'll admit it: I've never regarded the Japanese Friendship Garden as a "main event" at Balboa Park.  I have visited it once or twice in the 15 years I've been acquainted with Balboa Park, but since it has no historic flying machines, no eye-popping scientific experiments, no state-of-the-art dome theater, I have viewed the garden as a quaint landmark more than an actual attraction – kind of like the carousel at Disneyland.  But like Disney's carousel, it has a profound charm and appeal which can be lost among the sensations that surround it.
The same can be said for ourselves, which is why the Japanese Friendship Garden is such a treasure.  It provides a place of peace and contemplation, a kind of oasis in our familiar environment.  Why would we need such an "oasis?"  As Tiki, a guide at the Freindship Garden, tried to explain, our thoughts are constantly being pulled and stretched this way and that by the manmade sensations and obligations of the world.  It isn't too difficult to be pulled away from our centers and forget ourselves.
With its traditional Japanese art and koi pond, "strolling gardens" like this one serve as a venue for those who seek their own centers.  The path in the garden is meant to subtly guide visitors through while their conscious thought is allowed to turn inward.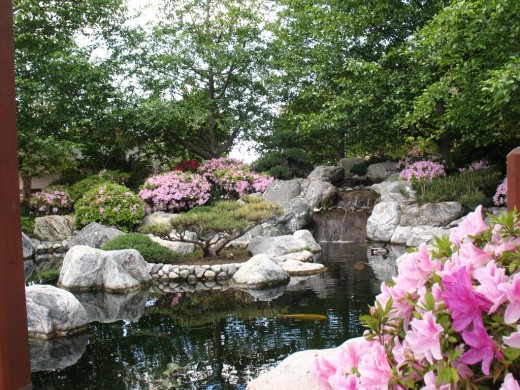 There is a tremendous amount of thought behind creating and maintaining a venue of such simplicity.  It is a deceptively secluded area of Balboa Park, with very little outside noise allowed in.  In fact, it wasn't until I left the garden that I was reminded of outside noises such as children and passing cars.  There was a real feeling of back-to-the-real-world.
After your stroll through the garden, you can enjoy some traditional Japanese tea, sushi, noodles and rice bowls, as well as more great views of the park, at the Tea Pavillion, just outside the garden.
The Japanese Friendship Garden is open daily.  Admission is $4 for adults and $2.50 for seniors (65+), students, and active military (with ID).  Children under 6 are free.
Docent-led tours are available, and I highly recommend one.  Sometimes, you need a little guidance to reach your center.