I kind of like visiting Petco Park when nobody is around — no baseball players messing up the field, no fans standing around making a big racket and blocking the impressive vistas of beautiful San Diego all around the stadium.  I can't tell whether that's a provocative statement or not; just a thought I had during my tour of Petco Park.  The home of the Padres was the groundbreaker in downtown San Diego's neo-renaissance in the early part of the century (opening in 2004).  It's another impressive landmark here in San Diego, and as with many of the attractions here, the closer you look, the more impressive it is.
What can you expect to learn on a tour of a mere baseball stadium?  A lot more than I expected, as it turns out.  On my tour, I was exposed to fascinating facts and trivia regarding the world of baseball, sports journalism, city planning, and Petco Park's unique architecture; not to mention some good baseball gossip.  I would love to go into some of my tour guide's act here, but this is one instance when you really have to be there.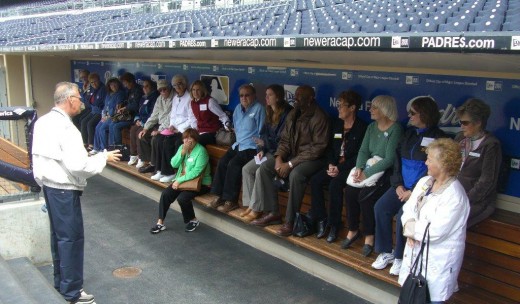 Walking around in the Padres' house when the Padres aren't home really emphasizes the vastness and versatility of the structure, which could easily double as a small city complete with restaurants, parks, museums and a sandy beach.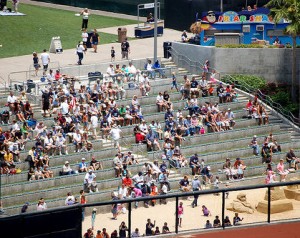 Yes, a park and a sandy beach! Ever tried "Park In the Park?"  $5 will get you into a game and onto a nice patch of grass as well as grant you more access to the stadium than you might think.  Bleacher seats cost $9 and include access to a sandlot in right field.  It's a great option for moms and dads who don't want to spend the game wrangling kids back into their seats.
The park is wide open to views of the playing field, and if you're a wanderer like me, you can enjoy a game from almost any vantage point in the joint.  (The many premium lounges, suites and boxes will cost you, though.)
Walk-up tours are available to the public Tuesday through Sunday.  Adults are $9, seniors $6, children under 13 $5, and active military $8, with discounts for groups of 25 or more.
On evening game days, a game ticket plus an Early Bird Tour ticket will get you inside the park an hour before the gates open so you can get to know your ballpark before the game.