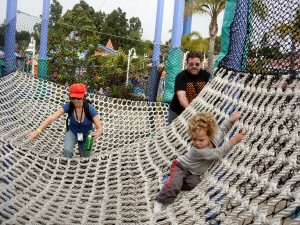 When Sea World's Happy Harbor closed for renovations, my boy (my only boy at the time) and I were bummed.  It was, after all, the best part of Sea World for us – a huge play area with lots of fun and safe activities.  We used to go to Sea World just to hang out there.  But when it reopened last summer as Sesame Street Bay of Play, it was so much more than before.
Sea World's children's play area had been transformed into an amusement park all its own within the marine park.  Families can bounce, climb, swing, slide, spin and fly in this giant playground complete with kid-friendly rides and a giant jungle gym with rope bridges, nets and slides.
Here's a tip: bring your bathing suits as there are some good opportunities to get wet.  Even if you don't plan on getting wet, your little ones don't plan anything at all – they just do!  If you forget, there are bathing suits for sale right on site.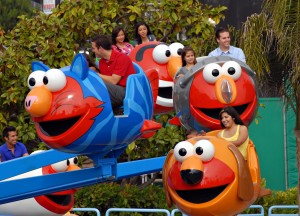 Along with Bay of Play, other Sesame Street themed activities include Lights, Camera, Imagination! – a "4-D" movie experience that will immerse you into the world of Sesame Street through cutting edge digital movie magic – and Breakfast With Elmo, where you can meet the little, red monster and many of his friends, including Big Bird, Cookie Monster and (my favorite) Grover.  As seasoned Sesame Street viewers, we were truly impressed as we got to rub elbows with these furry celebrities in person!