Downtown's Gaslamp Quarter is well known as a nightlife destination as well as home to many of San Diego's signature restaurants and boutiques, but those 16 square blocks south of Broadway also hold the key to the city's fascinating history.
Like any Wild West town, the story of San Diego is rich with sensational stories of heroism and infamy – from its origins as "New Town" to its era as the red light district, through its time of decay into its renaissance – and you can relive it all through these unique and entertaining sightseeing tours.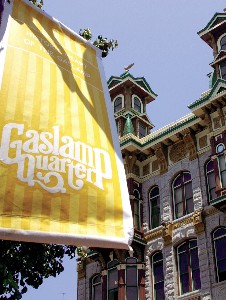 The Gaslamp Quarter Historical Foundation's historical walking tour leaves every Saturday at 11:00 A.M. from the William Heath Davis House on 4th & Island Ave.  The house itself is the oldest surviving structure in downtown San Diego – each of its rooms showcasing a unique period in San Diego's history – and it only gets more interesting from there.  On this tour, you'll get to see the Gaslamp Quarter with new eyes as you retrace the steps of many colorful residents (including former San Diego "capitalist" Wyatt Earp), visit historic Victorian-style buildings, and walk the streets of the former red light district.
The tour costs $10.00 for adults, and $8.00 for seniors, students and military.  Kids' tours and private group tours are also available.
Back Alley Tours focuses on the Gaslamp Quarter's risqué history as our original red light district.  Here you will travel back in time to the more lawless days and nights of the "Stingaree," as it was known then.  Owner and tour guide Melanie Young prepared this unique and unusual tour by spending a year digging through the archives at the Museum of San Diego History reading periodicals and journals, studying historic photographs and absorbing every bit of historical information she could get her hands on.  The result is a unique and thoroughly entertaining look at old San Diego.
Back Alley Tours take place in the evenings Wednesdays through Saturdays.  Tickets cost $20 each, or $35 for a pair. Seniors, students and military tickets are $18.
Haunted San Diego Ghost Tours and Ghostly Tours In History provide a different kind of thrill after dark.  Hear macabre tales of San Diego's history, explore its mysteries, and walk in the footsteps of some historical figures who met untimely or unjust demises in the streets of "New Town."  Yup, they're still hanging around, waiting for some resolution or perhaps just enjoying the San Diego weather.  Both tours also visit other historic districts of San Diego such as Old Town and Coronado. The tours are billed as "PG-13" but don't worry – it's an Edgar Allen Poe spooky, not a Rosemary's Baby spooky.
Tour pricing varies by type of tour.  Check out their websites for details.
Will you ever look at downtown San Diego the same way again?  I quote the raven: "Nevermore!"