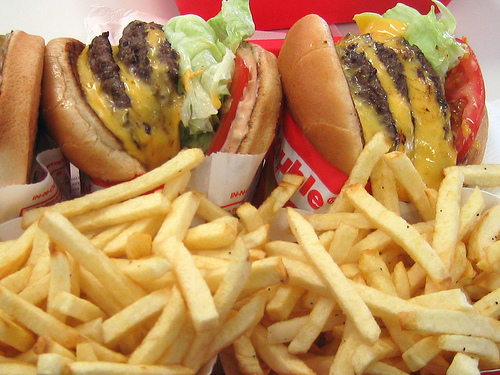 Craving a burger in a hurry? 
You're in luck because, in San Diego, we're deep in the heart of In-N-Out country.
Zagat just confirmed that the fresh, never-frozen, made-to-order regional icon is tops in the country for drive-through burgers.  
No surprise here.  It's pretty common for visitors to make a point to stop at In-N-Out. 
But, San Diego's bevy of burger options does not stop with the double-double or animal-style.
Bring up the "best burgers in town" question and you're likely to start a ruckus (the only topic more controversial is fish tacos…we'll save that for another day). 
Rocky's Crown Pub in Pacific Beach and Hodad's in Ocean Beach are hotly debated favorites that end up with a place on almost every one's list.  On the burger-and-a-beer front, people swear by The Waterfront in Little Italy or the High Dive in Bay Park.   Adventuresome types who dig ostrich meat like to call out Tioli's Crazee Burger in North Park and those with kids are looking forward to the reopening of Corvette Diner at Liberty station later this month. 
Personally, I'm a fan of sticking to all-natural, grass-fed beef and house-made buns, sauces, etc.  (That way I can rationalize burgers as good for me!)  Faves include Neighborhood in the East Village, Burger Lounge in Coronado/La Jolla/and soon Little Italy and The Linkery in North Park. 
What's your favorite San Diego burger joint?