So what does an attractive, single, 30-something professional do on a Friday night in San Diego?  Well I don't know about guys like that, but here's what I did…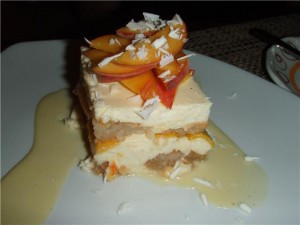 I had the distinct pleasure of patronizing Stingaree for the evening last Friday, and all I can say is that my friends and I will be remembering that night for a while to come.  No, it was not a Hangover reminiscient night of debauchery that I couldn't remember the next day.  Rather, it was an opportunity to enjoy a delicious dinner with friends, a few dances on the dance floor, and to relax under the stars listening to the DJ (accompanied by the live instruments of Jason Whitmore and Kofi) on Sting's rooftop deck.
More well known for their nightclub than their restaurant, Stingaree's been doing great things to bring the restaurant to people's attention.  Their Happy Hour includes 50% off their lounge menu, and reduced prices on drinks.  But if you've got the time, I recommend sitting down for a full dinner!  (TIP:  Those eating dinner at Sting, have complimentary access to the nightclub afterward! Avoid the cover charge & lines and enjoy a great meal instead!)
Our apps included mac & cheese and a medly of fried seafood including calamari, shrimp and scallops.  The entrees ranged from vegetarian lasagna to lamb shanks.  I had an outstanding filet with creamed spinach.  The true delight of the dinner though was when I said "give us one of each!" – desserts that is!  With 5 people and 6 dessert options, it just made sense to order them all!  (God, I hope my trainer isn't reading this blog!)  By far, the best dessert was an AMAZING peach tiramisu.  Without a doubt the best dessert I've had in a long time!  I WILL get the recipe for this dish somehow!!!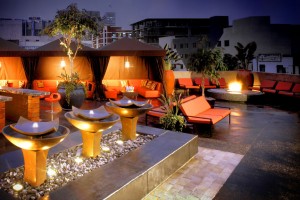 With stomachs bulging and thoughts of peaches stirring in our heads, the group headed upstairs to our cabana on the roof after dinner.  Sting has three floors of nightclub:  Downstairs – bar and dancefloor, 2nd floor – bar and VIP area & Roof – bar, VIP cabanas, dance area and firepits.  We choose the rooftop for its mellower vibe and the ability to enjoy some of San Diego's great nighttime weather!   There's nothing quite like a rooftop party!
Stingaree is consistently named one of the top nightclubs in San Diego and their sister nightclub in Hillcrest, Universal, is also a favorite of mine.  (UPDATE:  Sadly, Universal has closed its doors.  It will be sorely missed!)  They've always got top-notch DJs and themed events scheduled.  I also like the way they can split their music scene to have one type of music spinning on the lower floors while allowing for a different style to be played on the roof.  A little something for everyone!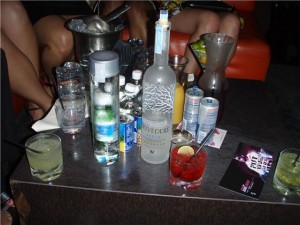 Bottle service is definitely the way to go if you've got a decent sized group.  While a bottle can be expensive for your average Joe on his own, split the cost amongst friends and it makes the cost a little more reasonable.  The big bonus of bottle service is that you will always have a place to sit.  With seating at a minimum in most nightclubs (more space to dance!) a guaranteed area to sit is priceless!  Plus, for people-watchers like me, it makes for a great vantage point.
While it's a cliche, it's also very true.  San Diegans love to work hard and play harder!  And this nightclub is definitely full of the young, attractive, hard-working/playing crowd!  Come prepared to see-and-be-seen!