I'm having a Calgon moment and a bubble bath won't cut it.  I need something stronger.
What's a girl to do when only a technicolor cocktail with an umbrella will suffice?
Follow the lead of generations of Californians and embrace Tiki culture, of course.  That way, I can take an exotic getaway – just for a happy hour (or two) – and I don't even have to leave the Gaslamp Quarter much less blow 1000 bucks on airfare to Tahiti.
So, I'm heading to Mister Tiki's Mai Tai Lounge for their $5 on Fifth happy hour specials.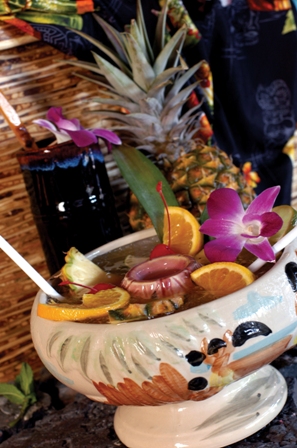 Just five smackers will buy me my choice of fun island-inspired drinks like the Haole Mai Tai, Lilikoi Mojito or Coconut Kiss Martini.  And, my guy – he's not a big umbrella fan- can enjoy a large Sapporo for the same price. 
Of course, the South Seas – like happy hour – are not just about the drinks.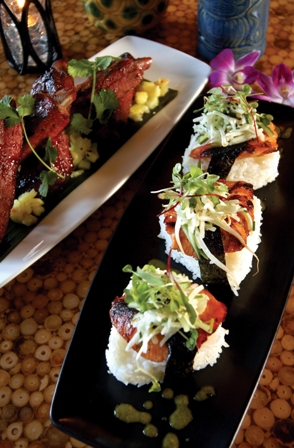 Mister Tiki's deals cross over to the sushi bar where for five bucks you can choose from California, spicy tuna, spicy yellowtail, shrimp tempura or vegetarian rolls.  And, $5 PuPu specials offer modern takes on Tiki fare with crispy shitake & goat cheese wontons, spiced chicken potstickers, chicken lettuce wraps, tempura baby shrimp and calamari fries.
It's a proven fact, PuPus are far superior to appetizers in elevating one's mood.  And, tropical cocktails will make your happy hour happier than most other drinks.
Mister Tiki $5 on Fifth specials, Monday-Friday from 5-7 p.m. 
Mai Tai, take me away!