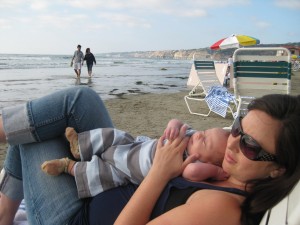 Every smart husband circles two dates on the calendar each year. Not the Super Bowl and your fantasy baseball draft, I'm talking about the smart husbands.
Those two dates would be your wedding anniversary & your wife's birthday, cavemen!
I am usually pretty good at lining up great getaways and dinners, but this year I outdid myself and you can too.
I surprised my bride with a weekend birthday getaway at the La Jolla Beach & Tennis Club this year and she could not have been more thrilled.
You can book a room like a regular hotel, but most guests are Club members who pay for some sweet conveniences. Perks like a private beach, tennis courts, & a 9-hole executive golf course. This place is so exclusive that they actually manicure the beach every morning before the sun comes up. The sand is raked, chairs are arranged and staff is at the ready to get you pretty much anything you need.
The group next to us put their whole setup, chairs, tables, reading material, snacks etc a little to close to shore & when the tide swept in the staff raced to the rescue and pulled all the iPods and Louis Vuitton bags to safety. We saw the staff bring out bocce ball sets, umbrellas & beach toys to anyone who simply asked for them.
The coolest thing you can do is have them bring you a BBQ ready for grillmaster wanna-be's to make dinner for the family. Charcoal, and even all the ingredients for dinner are right there for you.
The great thing is that you don't have to be a high roller to stay there. There are more specials than ever right now, and if you book off peak season (winter, spring and fall) you can get great deals too.
The Beach Club is a fabulous way to enjoy the beach a little more exclusively than most. Right next door is the La Jolla Shores Hotel which is where we stayed for our anniversary last year and had a great time.
The only drawback now is setting the bar too high, what am I going to do next year?