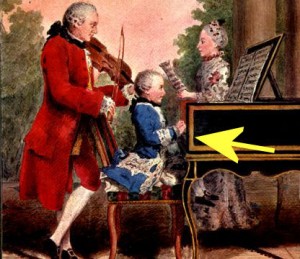 We are right in the middle of the Mainly Mozart Festival's two-week run at the historic Balboa Theater. Every year, this festival presents "all-star" orchestras performing works by the masters – Mozart, the Bach boys, and others – from the Baroque, Classical and Romantic canons.
Maybe you never considered going to the symphony in San Diego but there's more than just the music – watching an orchestra perform and then going out into the downtown nightlife sounds like an experience to me; and I know an experience when I see one.  It might not be for everyone, I know, but for those who might be on the fence and just need a little push, I will tell you what I used to tell my music camp kids: Trust me – you like Mozart.
If not, then how about a compromise? Perhaps a "rock 'n' roll symphony" sounds easier to swallow.  On August 14 and 15 the San Diego Symphony Orchestra and original members of Beatlemania come together for a unique musical spectacle called Classical Mystery Tour – Beatles music backed by an orchestra.  All you need is love (plus $15 – $75, depending on seating)!
This concert is part of the Summer Pops series which is taking place downtown at the Embarcadero Marina Park South and runs through the end of August.
Of course there are plenty of other opportunities for live music here in town (including some good spots for jazz and blues, which I will get to shortly) but for those of you who didn't see this joke coming from a mile away: if it ain't Baroque, don't fix it.