This past weekend was one of the best weather weekends we've had in a while!  I really enjoyed my weekly beach volleyball games at Ocean Beach, but decided Sunday afternoon that my dose of beach on Saturday was just not enough for the weekend.
With 70 miles of beaches in San Diego, there are a lot of choices when you "think beach" around here.  When I want a nice view and a fun walk, I usually choose the La Jolla Shores beach.  LJS has a nice, long walkable beach.  All the way from the foot of the Marine Room Restaurant, past the Scripps pier and, depending on the tide levels, further down along the cliffs.
La Jolla Shores is a great mixed beach with surfers, swimmers and sunbathers alike.  It even has a couple of beach volleyball nets!  The beach does have a free, public parking area, but on good weather days it fills up FAST!  So plan on getting there early or trolling the side streets looking for street parking if you go during prime times.
Sunday was a particularly fun people watching day.  There were tons of families and groups out on the beach having a blast.  The folks over at La Jolla Kayak had a group of kayakers out on the water.  The beach volleyball courts were packed.  The surfers were hangin' 10.  I even saw a few dolphins out in the water beyond the swim area!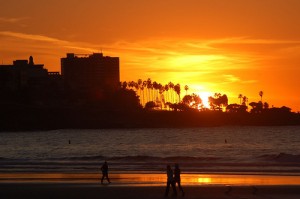 LJS is also one of my favorites because of its great sunsets (a photographer's dream!) and the fact that they have firepits.  My friends and I like to come down to the beach an hour before sunset and start setting up the bonfire.  Because of its location, the beach offers a fantastic view of the sunset, and after the sun goes down it is time to light that bonfire!  Whether its the glow of the fire, a chance to roast marshmellows, or just the peacefullness of being near the ocean at night, you absolutely have to experience a bonfire on the beach.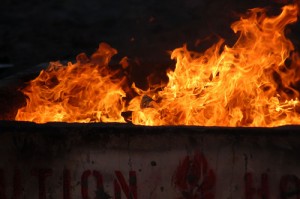 "Benjamin, this sounds like such a wonderful place, how can I experience it even more?"  you ask… Well I've got to say that I'm always super envious of the folks staying at the La Jolla Shores Hotel and the La Jolla Beach & Tennis Club.  Right on the beach at La Jolla Shores, some of the La Jolla Beach & Tennis Club guests can literally stroll out their doors and out onto the beach!  They even have lounge chairs, tables, etc. for their guests out on the sand.   The La Jolla Shores Hotel is right next door, and a lot of their rooms have that fantastic view from their windows/balconies!  Or if you're not inclined to stay in a hotel, check out the restaurants at both properties.  The food is great and the views are amazing!