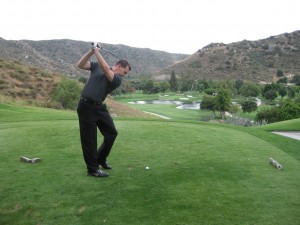 One of the most overlooked aspects of San Diego is our abundance of great golf courses. Despite perfect weather and an amazing selection of courses we are still not given our due credit as a golf destination.
I recently played a few rounds at the course where I learned the game, Sycuan Resort. The course is in great shape right now with the greens and fairways all in excellent condition.
The weather in San Diego has also been ideal for golf lately with temperatures in the upper 60's at most of the inland courses and a nice little layer of clouds to keep us from getting farmer tans.
My cousin recently decided to take a contracting job in Baghdad, so I decided to treat him to perhaps his last round of golf ever a fun sendoff on the links.
We teed it up on my favorite track there, Willow Glen, which features two great signature holes on four and twelve.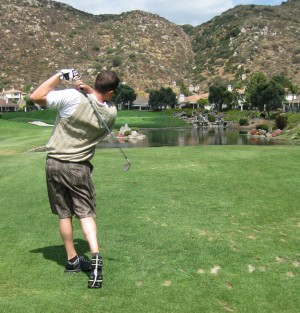 I'm a 21 handicapper, so I guess you could call me an average golfer and for me this course is a great challenge, but also manageable.
I had two memorable holes on my most recent outing.
The signature hole on Willow Glen has an extremely elevated tee box, with an approach shot over water.
For me it was a 5-iron off the tee, which landed in the short stuff. Then came the part where my game gets tricky. I launched a sand wedge onto the upper tier of the green, which was not where the flag was that day.
Luckily I managed a miraculous 20 foot downhill put to make par. I tried to act like I make 20-footers all the time, but there was a Tiger-esque fist-pump that slipped out.
The other highlight of the day was a birdie on #11. It is a fairly tame 372 yard par four,  but it gets a whole lot tougher when you knock your drive into the sand 180 yards from the hole like I did.
The good part of that lie was that I got to use my rescue 5 which sits in the bag most of the time.  I managed to pick it clean and land it 2 feet from the cup, then made the birdie put.
Sycuan is a haven for our neighbors in Arizona and L.A. because they offer two championship courses, plus a great executive course, all alongside a 100 room hotel with a relaxing spa and a casino just down the road.
Sycuan is also ideal for tournaments with 54 holes they can accommodate virtually any size group. The banquet facilities are top notch as well.