For those who have forgotten how much fun it is to play dress up and enjoy a cup of tea with your grandma/stuffed animals/imaginary friends, I advise you to throw on your best dress and head to the nearest tea room – stat.
I brought my sorority alumnae group to Mrs. Burton's Tea Room and Victorian Shop for an afternoon tea party a few weeks ago and we had an amazing time. Mrs. Burton's Tea Room is in an old Victorian-style house in Old Town that hosts tea parties for all ages. The shabby chic decor and collection of large hats and colorful boas to wear during your party add to the old-time ambiance. The tea room is great for baby showers, bridal showers, children's birthday parties, or just to catch up with a friend.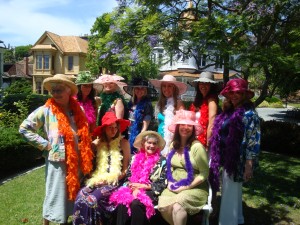 The tea party is fit for a princess, complete with finger sandwiches, scones,
and endless refills of warm tea. After the tea, there is optional croquet on the  lawn (think Alice in Wonderland, minus the flamingos and hedgehogs), or even storytelling available, along with a group photo on the outside patio. And of course, your prince can come too. Top hats are provided, so he can leave his at home.
For a unique, unforgettable and alcohol-free party experience, tea parties are a great idea for people of all ages. Dressing up in your favorite frocks is always fun, and being able to enjoy a pot of tea with your friends (and not just your kid's stuffed animals) is sure to be memorable.
Other tea options to try:

The Aubrey Rose Tea Room – La Mesa
Tea Upon Chatsworth – Point Loma
The Westgate Hotel – Downtown. Afternoon tea Friday – Sunday.
Shakespeare Corner – Mission Hills
Four Seasons Aviara – Carlsbad