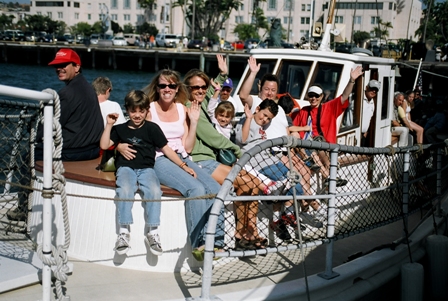 Did you ever want to be a sailor?
Well, beginning July 15, you'll get your chance because Wednesdays are Sailor Days this summer at the Maritime Museum on San Diego Bay. 
Every Wednesday through August 26, the historic Star of India and all the other ships in the museum's collection will offer hands-on activities designed to give you a taste of the sailing life.
Adults and kids can make rope for sailing, move cargo around the decks, raise and lower the huge sails, tie sailor's knots, climb through a steam engine and much more.
Kids are also invited to take part in a scavenger hunt through the ships, searching for fun historic maritime facts and then choosing a prize from the museum's treasure chest.
The best part?  Sailor Days activities are included with regular museum admission – $14 for adults and $8 for kids. 
Plus, when you book tickets online in advance and choose the Discovery package, you'll get a free one-hour historic boat cruise on San Diego Bay aboard the Pilot. (You also have the option to purchase tickets at the door and add the boat tour for $3.)