Let's talk live music.  Plenty of big name acts play the big venues in San Diego, but I believe certain forms of music were meant to be played and heard up close.  I'm talkin' about jazz and blues.  Now I don't consider myself an authority on the local jazz and blues scene, but I've been seen 'round midnight up in the supper club now and then.  Does that sound like where you'd like to be, too?  Good.  Keep reading.  I did some legwork for you.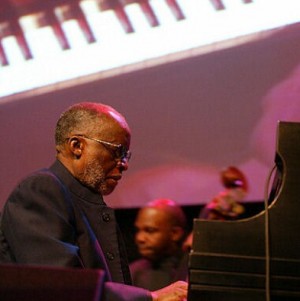 I have to start with Anthology.  You could always find jazz and blues in San Diego, but when Anthology opened, the spirit of the music seemed to find a home here.  Anthology is a three-level music venue with fine dining, two bars, private boxes, and not one bad seat in the house.  The first time I set foot in this venue, it was clear that the intention was to create an exceptional supper club experience with emphasis on the music, which does happen there every night of the week.  In its opening weeks, Anthology hosted masters such as Arturo Sandoval and Chuchito Valdez, and the hits just kept comin'.  If those names mean anything to you, then the value of an Anthology in our midst is clear.  It provides us with an elegant and intimate landing pad for touring greats of jazz, blues, Latin and R&B; not to mention that Anthology has a house band that has gained a prestige of its own.
I'm a believer in letting the music speak for itself, so I'll try not to go on too long.  Let me just point you in the right direction.  Here are some other swingin' venues I've tried.
Finally, I can't let you go without giving up one of my favorite local secrets:
Jazz Live does tend to fill up quickly since Jazz88 members get to reserve free tickets — and the Saville Theatre ain't exactly the Hollywood Bowl — but as long as I'm giving up my secrets, here's one more: if you get there before 7:30 the night of the show, you could score some unclaimed member tickets.  (And there are always a few unclaimed member tickets.)
What did I miss?  Any music venues near and dear to you that I should know about?
IMPORTANT UPDATE: The Temecula Valley International Jazz Festival will take place this weekend, July 10 to 12, 2009!  The festival will feature 22 performances over three days in Temecula's wine country.  Eight local wineries, two breweries, and three jazz stations will be represented and the festivities will include extracurricular activities such as musician workshops, percussion clinics, and an art fair.  Check the website for ticket information and schedule.