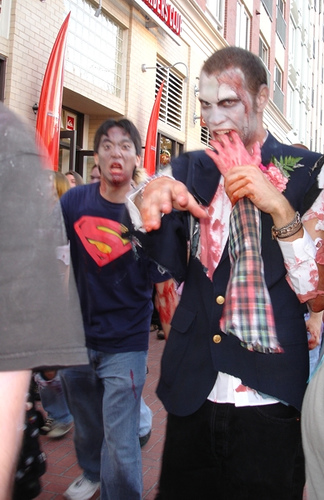 The biggest pop culture extravaganza in the nation is upon us once again. 
Last year, I had tickets.  So, in addition to walking the floor, some incredible celeb-sightings and crazy people-watching, I took in a panel honoring Ralph Bakshi, genius writer/director of the revolutionary Fritz the Cat, and a spirited session on all things steampunk. (Best. Costumes. Ever.)
This year, tickets sold out fast.  But, that's okay.  The wookies, stormtroopers and celebs are out walking the streets, no need to get in to see them.  Plus there's plenty of 0ff-con fun- that doesn't require tickets to the main event – like:
Thursday, July 23
Holy George Romero!  The streets of the Gaslamp Quarter will be crawling with the undead during Zombie Walk beginning at 7:30 p.m.  Put on your most ghoulish reanimated corpse costume and join the walk or just line the streets and take it all in, at your own risk…
They're back!!! Killer Tomatoes are taking over PETCO Park's Park at the Park at 7:30 p.m. for a free outdoor double feature of Attack of the Killer Tomatoes and Return of the Killer Tomatoes – the ultimate cult movie series, famously filmed in here San Diego. The sequel marks George Clooney's first action role. Seriously.
Friday, July 24
Kids are comic fans, too. Those with little ones can head up to Balboa Park at 8 p.m. and settle in on the lawn adjacent to The San Diego Museum of Art for a special family-friendly Comic-Con edition of their free Screen on the Green outdoor film series featuring animated and live action short films for kids of all ages.
Unleash your inner artist at 8 p.m. at the Ruby Room in Hillcrest.  Dr. Sketchy's Anti-Art School, a regular San Diego event, is celebrating two years of doodles and drinks with burlesque beauty Lady Borgia posing and award-winning local artist (and Dr. Sketchy founder) Molly Crabapple putting pen to paper – to sketch and sign copies of her graphic novel. 
Saturday, July 25
At noon, Tim & Eric's Awesome Con returns to the Embarcadero Marina Park North.  If you don't know these two, there are no words…  But, there will be songs, costume and trivia contests, three-legged races and, for one lucky fan, a wave runner ride with Tim & Eric.  Shrimp & White Wine!
At 8 p.m., Adult Swim is hosting a free roller skating jam at Skate San Diego in National City.  At Robot Chicken on Wheels  you can shoot the duck with stop-motion parody geniuses Seth Green, Breckin Meyer and Matthew Senrich – plus enjoy a live performance by Gym Class Heroes.