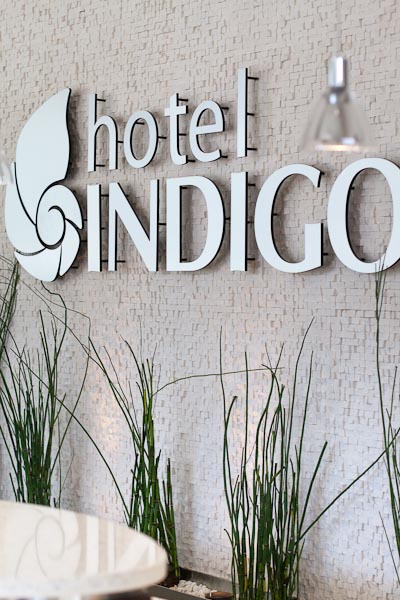 Shake off the last of the construction dust, it's time to put out the welcome mat! 
The Hotel Indigo San Diego opens for business today in the East Village neighborhood downtown.  Set just a block east of the Padres' home at PETCO Park, the hotel is San Diego's first LEED certified hotel – one of only 19 in the country. 
Among many ecologically-friendly elements, the brand-new 12-story building was designed for green roofs seeded with drought tolerant plants.  Up on the 9th floor, the roof is home to an herb garden with basil, spearmint, rosemary and tarragon for use in the hotel's Phi Bar and Bistro. 
Local artists, photographers and designers were brought in to help interpret San Diego's inviting coastal culture with artwork throughout the hotel.  The most striking example is the 40-foot tall glass sculpture on the building's western facade.  Inside, large-scale photo murals of water and native plants are installed in the guest rooms and public areas.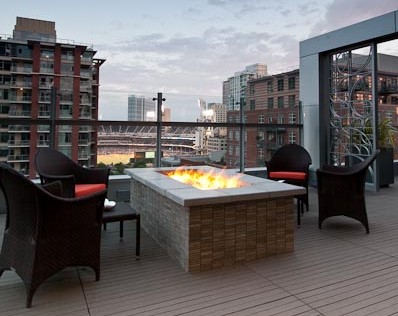 The hotel features 210 guestrooms(including five suites) with oversized beds, plush bedding, hard wood-style flooring and spa-inspired showers with Aveda products.  Each one boasts a 37-inch high-definition flat screen and guests are have access to free Wi-Fi in their rooms and throughout the entire hotel.
The best place to log on?  Up on the green roof at the Phi Terrace Bar where you can snuggle by the fire pits and enjoy panoramic views of downtown. 
Or, better yet, you're on vacation!  Stow the laptop, grab a beer and watch a game down in PETCO Park.
Click to view a gallery of more Hotel Indigo photos…