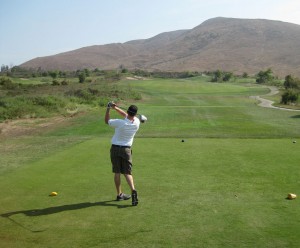 Saturday I took advantage of the warm summer weather and got out to Salt Creek Golf Club. This great links-style course is nestled into the foothills of Chula Vista, a suburb about 25 minutes from Downtown San Diego.
Golf for Normal People
I love the fact that the course is a challenge, and it is an authentic golf experience, but there is no pretense at Salt Creek. There are no snooty members, no overzealous Tiger wannabe's, just working people who love the game and want a fun and challenging course they can afford.
Course Honors
Make no mistake though, this is a serious golf course, Golf Digest gave them 4 ½ Stars in their Best Places to Play 2008-2009. There is also a massive all-grass driving range with lights so you can hit balls until the wee-hours.
If you get a tee time after the morning haze lifts hole #1's tee-box offers great views all the way to the Pacific Ocean and the Coronado Islands.
Rates
Rates vary from $35 – to- $95, if you call the club (619 482-4666) and mention that you saw this blog they will give you a special deal! Be sure to also look for great last minute specials, and the Players Club, a great value.
How to Get There
From the north it is best to use the new toll-road. It's $3 each way and exact change is required. It was also loaded with cops, so don't think your $6 just bought you a pass on the autobahn.
Conditions Right Now
Superintendent Rob Browns deserves some love for keeping the course in such great shape during the warm dry days of a San Diego summer. The course is in amazing condition.
How I Scored
Not a scorecard I want to frame, that's for certain. Let's put it this way, I went to the beach the following day and I can't tell which location had me in more sand.
I had to scramble up a good back nine to break 100, and it seems like I was hitting out of a bunker on every other hole, but that's links golf for you.