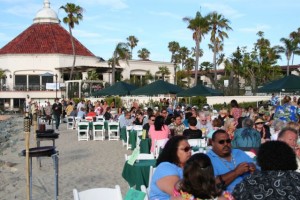 Last week I was lucky enough to attend Kona Kai Resort's first luau of the summer. Having only experienced a luau in Hawaii when I was all of 11 years old, I had no idea what I was in for. Was I supposed to bring my own hula skirt? Did you have to eat the luau pig in the pit? And if you're a vegetarian, is there a pit-roasted tofu pig? These are things I was eager to find out.
The luau was completely sold-out, and for good reason. The setting was directly on the beach in Shelter Island, and the weather was gorgeous. My husband and I were greeted with leis and escorted to our tables, where we had a direct view of the water, the stage, and were in close proximity to the buffet table. After grabbing some Mai Tai's, we were set. I was happy to have left my grass skirt at home, as I would have been the only one besides the dancers wearing one.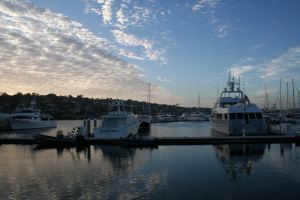 The sunset over the water was gorgeous, and truly added to the tropical atmosphere. The Hawaiian band was the perfect touch to the evening, and we were able to enjoy a dinner show of music and Polynesian dances while chowing down on our food. No one made me eat the luau pig or judged my plate of delicious salad, sticky rice, Hawaiian rolls, coconut creme brulee, and additional macadamia nut cookies. Hey, I was there to tell you about my experience, and I needed to experience two desserts.
The Kona Kai summer luaus will continue on Friday evenings on July 17, 24, 31, and August 14. It's a great idea for a date or a night out with friends and family, and if you're there for a special occasion they announce it on stage. So if you're looking to score points with your in-laws in town celebrating their anniversary, I'd suggest you make reservations for the next luau ASAP.