*UPDATE: 7/20 – Really sad news, MCA's cancer diagnosis .  Hope he recovers completely and soon.  Naturally, this health crisis has forced the cancellation of the Beastie Boys' Street Scene appearance as well as the rest of their tour and new album.*
Namely the Beastie Boys, MIA, Conor Oberst, Of Montreal, Band of Horses, Girl Talk, Chromeo, Ted Leo, Devendra Banhart, San Diego's own Wavves and The Dead Weather…Jack White's new band.  Plus a whole passel of other live acts, on 5 stages over two nights in downtown San Diego.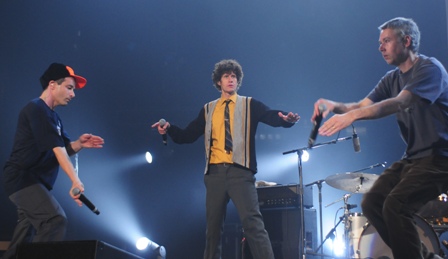 On August 28th and 29th from 4 p.m. to midnight, the East Village will be alive with the sound of indie (…for the most part) music.  I went last year and had an amazing time.  All the crazy kids with their goofy get-ups (neon sunglasses, short shorts) and great music, too.
This year, they're celebrating 25 years of  Street Scene and they don't want the recession to dampen your party spirits so, they're offering a "Layaway Ticket" that lets you to pay for your two-day pass in two installments – half now and the rest on August 6.  Two-day passes are $122 (plus service fees, of course) and are on sale now.  One-day passes aren't available yet but sale prices and dates will be announced a bit closer to the show date.