About 5 years ago I started hearing stories about the Party Cab. Friends would call me after a wild night at the bars on Garnet Ave. and tell me that the highlight of their night was getting into an unassuming taxi cab, and once inside seeing the cab lit up with blacklights, glowsticks, and having 80's hits blaring out of the speakers.
I was so excited about the prospect of this taxi actually existing that I'd wait on the corner after a night out hoping I'd get it. After an extremely successful night at Canes a year ago, my husband and I hopped in the first cab that came by. It didn't seem special at first, but as soon as the blacklight came on and the sounds of Journey filled the car, I knew the legend was real. The Party Cab does exist.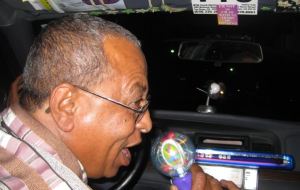 Thankfully I got his business card that night and was able to surprise a group of my friends from out of town one night with the VIP treatment of the Party Cab. We sang, we danced, and even paid extra money to have him drive us around so we could finish singing "Jessie's Girl."
Where can you find this San Diego legend? Some say he roams Pacific Beach, looking for just the right person in need of a nighttime pick-me-up. Others simply call the number on his card. What's his number, you ask? Like the rest who found his services accidentally, you'll find him when you need him the most, on a night when you need to scream "867-5309!!" out the window of a cab. And no, I promise he won't answer if you dial it right now.