Art museums in Balboa Park display great works by artists and masters, both living and not-so-living.  But art — even great art — is an ongoing thing.  It's happening now and it will continue to happen into the future.  That's why Balboa Park provides local artists of the living variety with a venue to create and display their creative offspring.
The Spanish Village Art Center is home to 37 working artist studios that are open to the public every day.  Here, you can wander through and watch as art is created — clay thrown, glass blown, and tapestries sewn (among other art forms that don't necessarily rhyme).  You can check out the local art all around and even support the artists by picking up a fresh piece for yourself.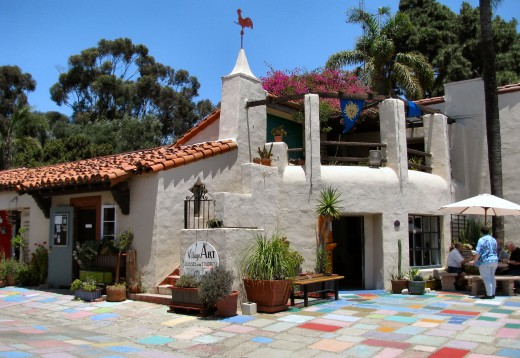 One of my regular stops in the Village is Lucy Wang's studio where she can always be seen creating one of her beautiful Japanese watercolor pieces or a rich 3-D painting that must be seen to be believed.  You heard me.  3-D.  I know there's a better name for her deep, layered paintings, but 3-D really paints a picture, no?
There are also hot glass blowers like Jake Burksmith who put on quite a show when they do their thing.  Hot glass is a dynamic medium that's fascinating to watch in action.  ATTENTION PARENTS: Even if you're just across the lawn at the Natural History Museum, take a minute to stop by Studio 18 in the Spanish Village and see if any of the hot glass artists are creating.  Your kids want to see this!
The Spanish Village Art Center offers art classes for all ages almost every day.  I was just looking into pottery classes for the fam.  Children's pottery classes are given every Saturday, rain (ha ha) or shine, and adults can take the class Tuesdays and/or Thursdays.  Check out the website for the full class schedule.
And Speaking of Pottery . . .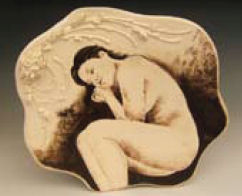 By the by, if you like pottery and ceramics but don't feel up to the hassle of actually creating it, walk a few steps over to the Casa del Prado this Saturday, August 29, where Clay Artists of San Diego will hold their first annual Ceramics Show and Sale.
The show will feature unique and original pieces, both sculptural and functional, by 26 local clay artists.  If the word "ceramics" doesn't exactly make your imagination dance, remember what I said about the glass artists and try to think outside the pot.  One thing artists are good at is making the ordinary extraordinary.
The Ceramics Show and Sale will take place in the Casa del Prado's largest room — the Majorca Room (room 101) — on Saturday from 10:00 A.M. to 4:00 P.M.