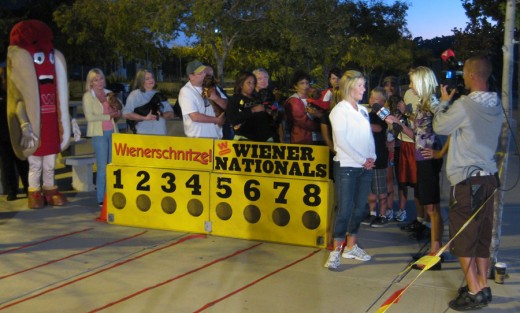 Question of the day, what does wiener dog racing have to do with college football? Find out this Saturday at the 13th annual Wienerschnitzel Wiener Nationals at Qualcomm Stadium. The competition is actually a fund-raiser and awareness-building event for the Pacific Life Holiday Bowl & the San Diego County Credit Union Poinsettia Bowl games played in San Diego every December.
Early this morning fifteen hopeful wiener dogs and their owners held exhibition heats for the local Fox morning show. Many of the dogs looked better than they actually ran, all suited up with capes and even racing goggles.
The real action starts at 8:00am Saturday at Qualcomm Stadium. The 16 fastest dogs advance to the semi-finals which will be held during a Padres game at PETCO Park on September 1st.
If you think your dachshund has the goods, visit the Bowl Games Association website for entry details and register online.