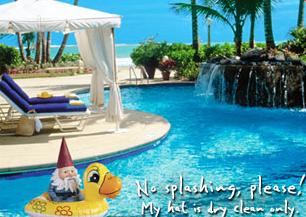 The votes are in and it's official!
The Travelocity Roaming Gnome's smart, loyal and attractive fans have chosen San Diego's Mission Beach as the final stop on his Summer of Possibilities tour.
We are so excited that the cute litte guy will be visiting San Diego. Of course, he'll hit up the Giant Dipper rollercoaster at Mission Beach's Belmont Park and build a sandcastle next to the boardwalk at the beach. But where else should he stop?
Any ideas?