So when you think of relaxing in San Diego, you probably think about soaking up the sun on one of our beaches, getting some spa treatments or enjoying a nice cocktail on a rooftop bar.  All absolutely valid ways to let the stress just melt away.  But last week I experienced an alternative (and more cathartic) way to de-stress in San Diego.  I smashed stuff!
Sarah's Smash Shack opened in the northern part of Downtown about a year ago and has already received much acclaim from, believe it or not, psychologists!  Written up in the Jan/Feb issue of Psychology Today, the shop is praised for the therapeuticness (is that word?) of smashing stuff!  SSS has also been featured on CNN Money, and in a number of magazines including: Inc, Redbook and Every Day with Rachel Ray. 
The Smash Shack is exactly what it sounds like – a place to smash stuff.  Purchase any number of glass and ceramic items from the Shack's collection and go to town.  They've got 2 rooms with reinforced steel walls where you can smash to your heart's delight!  For a small fee, they'll even let you bring your own stuff from home to smash!  It is amazing how much lighter you feel after tossing a couple of plates against a wall!  There's even an environmental side to this story.  The items in their shop have been purchased from thrift stores that have been unable to resell the items, and the shards of your broken frustrations are sometimes made into jewelery, pottery, or other recycled items.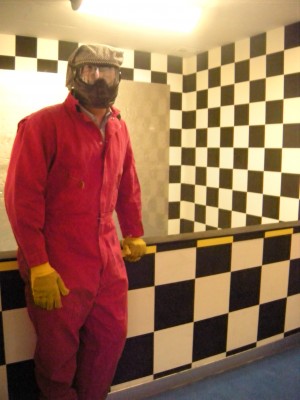 "I can smash stuff at home and it won't cost me any money", you say.  "Why should I pay to do it someplace else?"  Well for one, you won't have your family or neighbors calling the cops on you!  But in all seriousness, Sarah's has really made this a total package.  To make the experience more personalized, they'll play whatever type of music you want in the smash room (I chose a particularly loud Linkin' Park song) – or you can even bring your iPod in to play a particular song.  You can also tape a picture of your ex, your boss, or whoever is stressing you out, on the wall so you know where to aim.  Plus, write your frustrations on the items you are smashing and they magically go away when the item is smashed! (* Disclaimer:  The last comment was totally made up!)
They'll even let you bring your own stuff (with limitations) to smash!  Bad break up?  Smash the things that remind you of your ex.  Finally get a new dish set to replace the old one? Why not bring the old set in for a smash?!  There are SO many possibilities here.
I just went with a basic smashing of shot glasses to get the feel of it this time.  But you can be sure that I'll be back to smash some more!  Now that "the smash" is in my blood, I will return!