"The Sky Tonight"
We all know about one star that everybody comes to San Diego to enjoy (the sun, folks) but what about the billions of other stars that get virtually no play here in the city where there are too many lights at night to allow us access to the heavens?  (I know it's a burning question.)  For me, summer does not officially begin until I can get a good look at that Summer Triangle so, being a resident, I don't think twice about making the half-hour drive east on Highway 8 — at least as far as Descanso, just east of Viejas Casino — for a proper night sky.  But once a month, a clear night sky is within anyone's view right in the heart of the city.
On the first Wednesday of every month, Balboa Park's Reuben H. Fleet Science Center presents "The Sky Tonight," a 60-minute planetarium show in the newly updated IMAX theater.  There, you can sit back in comfort and see a truly unobstructed view of our cosmic neighborhood as one local astronomer or another leads you on a tour of the sky that night — presenting the season's constellations as well as any number of fascinating astronomical topics.  (On Wednesday, September 2, get to know the fall constellations.)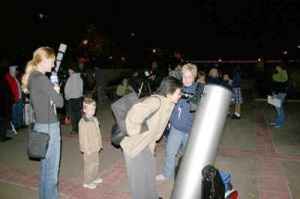 And there is something here for everyone, including the astronomically illiterate (and I mean that affectionately).  Of course no one is astronomically illiterate after the show.  "The Sky Tonight" is generally recommended for ages 5 and up because of the material and the darkness required for a planetarium show, but you know your little stargazer better than anyone.  (My son was 2½ when he attended for the first time.  I was prepared to leave if things got out of hand, but it worked out all right.  Just use your best judgment, moms and dads.)
There are two shows on planetarium nights — one at 7:00 P.M. and one at 8:00 P.M. — and they do tend to fill up.  If I were you, I would arrive 30 minutes prior to showtime to buy tickets, or buy them online.  If you do happen to miss out on tickets, don't worry — the San Diego Astronomy Association sets up a telescope outside on the Prado for free public viewing on planetarium show nights, weather permitting.
Want to spend more than a measly 60 minutes exploring the heavens?  How about three nights?
Julian Starfest II
The second annual Julian Starfest is coming up this month — August 20 to 23.  For four days and three nights stargazers camp out on the grounds of the Menghini Winery in the historic mountain town of Julian.
By day, it's a festival like any other — with food, vendors, local astronomy groups and raffles for big prizes.  I mean BIG prizes.  All of the major telescope manufacturers are there to show off their best stuff, and they do put some of their high-end optical equipment up for raffle.  Starfest also brings in expert astronomers to present a series of talks throughout the weekend.  This is a great way to spend some time out of the sun.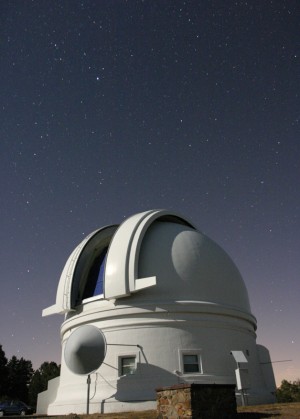 On Starfest Saturday,  take a field trip aboard an air-conditioned bus to Palomar Observatory for a special tour of the 200″ telescope and its facilities.  (A word from experience: at an elevation of 4,200 feet, you'll be ready for that air conditioning by high noon.)
You can also take off on your own and explore a local hiking trail or even go into town to visit the shops and have a slice of Julian apple pie.  Starfest attendees receive discounts at over 30 shops and restaurants in Julian.
By night, of course, you can take in all the stars and other heavenly bodies you could want and more.  (Last year, we enjoyed some amazing clear skies.)  And don't worry about not having your own fancy telescope.  The campground will be filled with enthusiasts who live to haul their gear out and show others what they're looking at.  You can just wander from telescope to telescope asking, "What're you looking at?"  I promise that 9 times out of 10, this will not start a fight.
If you're interested in stargazing, but not in camping out, you can still attend the Free Public Star Party on Saturday, August 22.  Just show up in Julian between 7:00 and 9:00 P.M. and you can enter Starfest where expert astronomers will take you on a free sky tour.  Astronomers are always happy to show you what's up!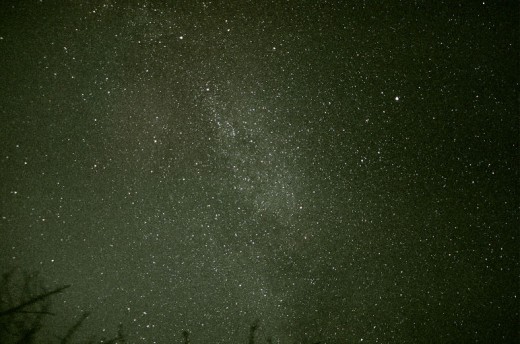 UPDATE 8/25: And we're back!  Despite gloomy weekend weather forecasts, we enjoyed two out of three nights of beautiful, clear skies.  All told, it was another stellar Starfest.  This time, there were lots of non-astronomers who just came to camp out and see what this stargazing thing is all about.  They, along with the large crowds that showed up for the free sky tours on Saturday night, were treated to mind-bending, perspective-shifting sights in the sky, too numerous to geek out about here.
But I will share one great thing about Julian Starfest.  It isn't just an annual meeting of the astronomy club; it's also shaping up to be a force for education in our community.  Its mission: to put astronomy back into public education.  The Julian Starfest Comittee is committed to using the proceeds from Starfest to build an observatory for every school that wants one.
And it has already put its money where its mouth is!  Next month, as Julian High School students go back to the grind, they'll find a new observatory to call their own, built with the proceeds from Starfest along with other donations (which are always accepted).
Here's to Julian Starfests for generations to come!