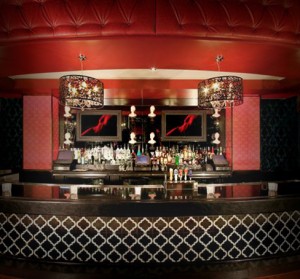 Last night, my friend and I went to check out the new Side Bar in Gaslamp Quarter, which reopened in May after a multi-million dollar renovation. 
Upon entering, this bar/lounge/club was unlike anything I had ever seen. The black, red and silver décor was over-the-top in the most fabulous way –  I swear, I spent a couple of minutes actually considering how I could attempt to steal all the lights, mirrors and rugs – and the ambiance exuded a sense of mischief, intimacy and dare I say… sexuality.
Aside from all the amazing décor there are a lot of neat design details that many may not notice. For example, the VIP booths have secret compartments for girls to hide their purses, and the bench cushions you sit on?? Yeah, they come off to reveal your very own personal dance floor underneath. How cool is that?!
After making our usual lap, (you know, the one where you walk around and scope out the scene) we sat down at a table to taste some of the menu selections. While everything was fantastic, I highly recommend the Toasted Raviolis and the White Spinach Pizza, they were delish! For drinks, we tried the Watermelon Mojito (fabulous, but strong) and the Absolute Side Bar (mmm, the fresh strawberries were a nice touch, except for when they clogged my straw, sad face).
After dinner, we hung out for a bit as the DJ revved up for the evening, but as responsible girls with work the next day, we called it an early night and left before the mass crowds came to let loose.
Side Bar is open Tuesdays – Sundays from 5 p.m. until 2 a.m. for dinner, drinks and dancing. The owner told me that the place gets packed on Fridays and Saturdays, so come early to avoid the lines… I know I'll be there, with my Toasted Raviolis in one hand and my Absolute Side Bar in the other. Cheers!