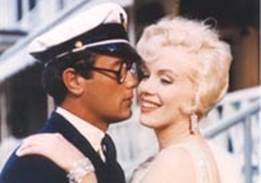 The Hotel del Coronado is throwing a birthday party for Some Like It Hot, the best American comedy ever. 
(That's not my opinion on the flick, the American Film Institute says so.)
The movie debuted 50 years ago, forever linking the grand dame San Diego hotel with Hollywood's blonde bombshell, Marilyn Monroe.
On Sept. 18-19, movie buffs and Marilyn fans will gather to celebrate the 1959 classic, directed by Billy Wilder and shot on location at The Del, with a spectacular weekend filled with events including a gala dinner guest-starring none other than Tony Curtis. 
Information on reserving these events or booking the Some Like It Hot Weekend Celebration Package (it includes accommodations and tickets to all events) is online. 
The hotel has warned guys, gals and guys dressed as gals to book early as space is limited.