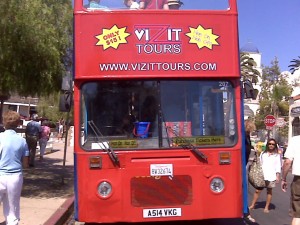 For those of you that want to get out and see San Diego without having to worry about navigating the city streets, Vizit Tours offers four new sightseeing opportunities aboard a vintage Double Decker open top bus. 
Every tour is narrated by a local tour guide that will tell you the history, facts and insider tips about each location throughout the tour. You can even hop-on or -off at any stop and get back on at a later time to complete the tour.  Busses run every hour from 9 a.m. to 5 p.m. each day. Or, you can catch the one-hour nighttime tour at 6 p.m. 
Tour highlights and stops include:
A couple of weeks ago, I tried out and La Jolla Loop and had a great time! The views of La Jolla are truly breathtaking and I highly recommend an afternoon tour so you can see the ocean glisten in the sun. (I know that sounds corny but it is sooo pretty!)
Prices: Tickets are good for two days and cost $15 per person, per loop or $35 per person for all four loops.
Note: For those of you that want gorgeous views and prime photo opps., I recommend sitting on the top level.  (The views are unbeatable.) But, for those that are interested in learning about the history, facts and insider tips, I recommend sitting inside on the bottom level. (Due to the open top up there, it's difficult to hear the tour guide on over the wind.)