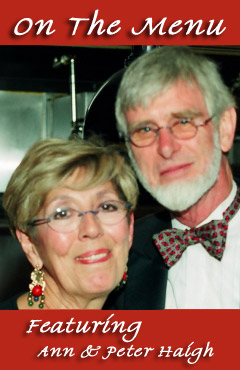 A couple weeks back, Peter Haigh of the internet radio show On The Menu was in town scoping out the San Diego restaurant scene.  Peter and his co-host (and lovely wife) Ann have been doing this show for years and have interviewed some of the culinary world's biggest stars.  So, I was really excited to get an opportunity to chat with him on-air. 
We got to talk about San Diego in the fall, all our amazing farmer's markets including the Little Italy Mercado (a personal favorite) and our incredible fall culinary events like San Diego Restaurant Week on Sept. 13-18, Celebrate the Craft  on Nov.1 and the first-ever San Diego Beer Week coming up Nov. 6-15. 
Peter also got a chance to interview a great local chef, Adam Bussell from the Vela at the new downtown Hilton San Diego Bayfront. 
Adam's a native San Diegan (they are hard to find here!) who spent the last several years in the kitchens at the Five Diamond Award-winning Mary Elaine's at the Phoenician in Scottsdale, Michael Mina's Aqua at the St. Regis Hotel Monarch Beach and Montage Studio Restaurant at the Montage Laguna Beach.  Now, he's back and cooking at Vela.
Listen to us online in the On The Menu archives (look for the Sept. 6 show) or click here.