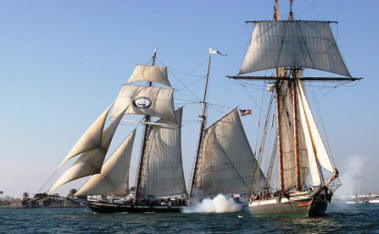 The San Diego Maritime Museum is offering aspiring buccaneers a once-in-a-lifetime opportunity. Throughout September, they'll be hosting cannon battles on the high seas (of San Diego Bay) as the state's official tallship, The Californian, defends our harbor from the invading privateer Lynx. 
The mock battles – with real explosions but, thankfully, no actual danger – will take place over two weekends from 1 to 4 p.m. on Saturday, Sept. 19, Sunday, Sept. 20 and Saturday, Sept. 26. 
Visitors can experience these epic battles in several ways.