Remember when Peter Brady made two dates for the school dance with two different girls and tried to keep them both without either one finding out?  His solution was simple: find a kid at school who looks identical to him for some reason and set him up with one of the unwitting young ladies.
I'm facing a similar double-booking problem this weekend — two huge, 2-day events that I look forward to each year: Adams Avenue Street Fair and the Pacific Islander Festival — both taking place September 26 and 27.  Unfortunately, without the wits and resources of a Brady, there's no way for me to enjoy both days of programming.  Yes, these are my troubles.
Adams Avenue Street Fair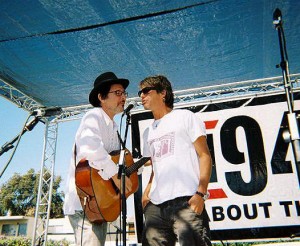 Adams Avenue Street Fair is the outdoor event I most look forward to every year.  With six musical stages, carnival rides, and a food and arts & crafts bazaar, it's San Diego's most happening block party as well as Southern California's largest free music festival.  I never miss it, and every year I come away with some great, new local discoveries, as well as chili-lime kettle corn breath.
It's hard enough choosing which stage to go to at any particular time during Adams Avenue Street Fair, let alone deciding which day to cut entirely.  This year, the music I'm most looking forward to, or curious about, will come from Red Pony Clock, Akayaa & Bolga Zohdoomah, and Jack "Mr. Bongo" Costanzo & his Latin Orchestra.  And I can personally vouch for The Styletones and Gregory Page.
Find a complete schedule of performers and their websites here.
Adams Avenue Street Fair runs from 10:00 A.M. to 9 P.M. on Saturday, and from 10:00 A.M. to 6:00 P.M.
Street Fair Report 9/28/09: One thing this year's Adams Avenue Street Fair had in common with those from most previous years is that it was the best one yet.  I became so swept up in the music on Saturday that I found myself returning for more on Sunday and, in the end, I stood up the Pacific Islander Festival (and my pulled pork and mac salad).  So much for multitasking.  Peter Brady — 1, me — 0.  But boy, did I dance this weekend!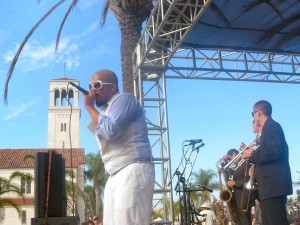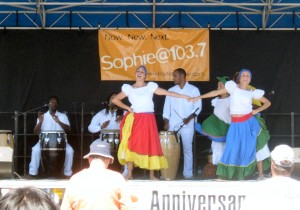 Charlie Konopka busks some San Diego blues on Adams Ave.
Yes, even the buskers brought the goods this year.  It reminded me of an embryonic South by Southwest.  If next year's Street Fair is to top this year's, I think these three acts will have to put something together.
Pacific Islander Festival
The other event I look forward to every year is the Pacific Islander Festival, also going on September 26 and 27.  This one takes place at Ski Beach on Mission Bay, and it celebrates the rich folkways of Melanesia, Micronesia and Polynesia with ethnic food, arts & crafts, cultural exhibits, and a stage with a steady schedule of musical and cultural performances.  It's the place to go to sit on the grass with your plate lunch and shave ice and take in some ukulele combos and a poi ball dance performance.  That's my kind of dinner theater.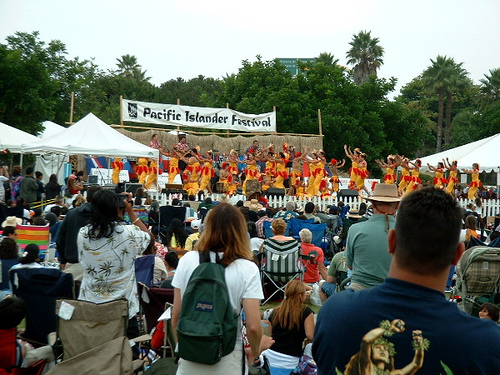 The Pacific Islander Festival opens on Saturday at 9:00 A.M. and is pau at 4:00 P.M.  On Sunday, it' s 8:00 A.M. to 4:00 P.M.
Limited parking is available for $10 in the lot on the west side of Ski Beach, but you should get there early to catch that worm.  A good alternative would be to park at one of the three remote parking lots and catch a free shuttle into the festival.  And wear sunscreen, bruddah!