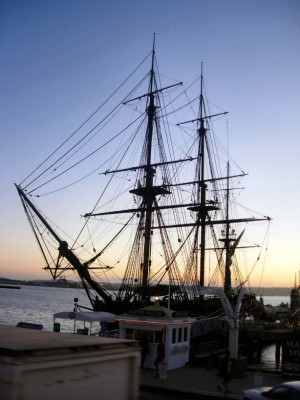 Or at least re-touched. 
Star of India, the world's oldest active sailing ship, spent three weeks in dry dock this summer for its decennial maintenance and came back looking better than ever in time to celebrate her 146th birthday this Saturday, November 14.  The Maritime Museum of San Diego will give her a proper birthday party that day, complete with cake — and everyone is invited!
Built in 1863, Star of India sailed around the world 21 times before retiring when steam ships began to rule the seas.  After three decades of dilapidation, she was restored to her former glory through the efforts of San Diegans who donated their nickles and dimes as well as shipbuilding skills and man-hours.  Such a history of goodwill makes this landmark all the richer.
This ship is another reason why I love this town.  San Diego has such an impressive pantheon of cultural symbols for a west coast city, as well as a history of saving them from returning to dust.
And now we're throwing them birthday parties!  Along with birthday cake to celebrate the Star's 146th. . .
It's Family Days at the Maritime Museum on both Saturday the 14th and Sunday the 15th. 

Kids 12 and under will be admitted free.

Insider Tip: Cover your ears!
Making the Star's birthday celebration even wilder, the Maritime Museum will stage more of its famous cannon battles on Saturday and Sunday.  You'll get your chance to climb aboard our official state ship the Californian, or the Privateer Lynx and witness realistic cannon fights up close.  (Don't worry, they forget to load the cannon balls every time!)
If you prefer to have a bit more involvement in your ship battles, how about getting into one of the museum's two decommissioned naval submarines for a life-size game of Battleship?  Would I make that up?  Sink or be sunk as you call your shots using radio communication.  And may the best sub commander win!
Star of India lives out her retirement alongside other historic beauties of the sea such as the steam yacht Medea and the steam ferryboat Berkeley, which houses most of the museum's exhibits and displays, and you can go aboard and explore every one of them.  For an extra $3 you'll be able to take a historic harbor tour aboard the 95-year-old Pilot.  What a party!
Be sure to hit up the International Visitor Information Center across the street (corner of Broadway & Harbor) for your discounted museum tickets.  For prices and details on the special programs and charters (which happen all year round) contact the Maritime Museum at (619) 234-9153 or visit www.sdmaritime.org.