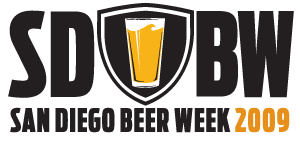 Forget zombies.  Craft beer is about to take over San Diego. 
Friday, Nov. 6 through Nov. 15, breweries, bars, restaurants and hotels will celebrate the first-ever San Diego Beer Week with tons of awesome events all around town.
From beer dinners, cask nights and barrel-aged tastings, to learn-to-brew classes and beer education seminars local brewers plan to show off the goods that recently earned San Diego the honor of being named the top beer city in the country by Men's Journal.
The kickoff event is the San Diego Brewers Guild Festival on Friday at the World Beat Center in Balboa Park.  The festival will feature 80 beers brewed in San Diego – admission includes 10 samples, complimentary food, live music and a souvenir tasting glass.  
Festivities wrap up on Nov. 15 with a Chef Celebration of San Diego Beers in La Jolla.  The event will feature 16 local chefs and eight San Diego breweries. Admission includes a souvenir tasting glass, live music, all you can eat pairings and beer seminars presented by local brewers and chefs. 
During the 10 days in between, there are more than 200 fun San Diego Beer Week events. 
You heard me right, that's two full weekends of pints, pours and parties. 
Plus, if you're considering a last-minute trip, hotel packages and special rates are still available.  Come and raise a glass with us!