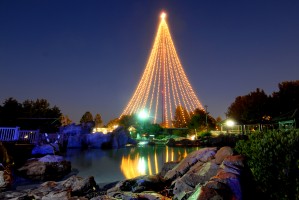 As if SeaWorld couldn't get any cooler… check out what they've got in store for us this winter:
A new ice skating rink: From Nov. 21 – Jan. 3, lace up some skates and glide beneath SeaWorld's Tree of Lights to celebrate the season. In addition to a 5,000 sq. ft. ice rink, there will also be a special toddler rink  for kids 3 and under… the kiddies can also get special double-edged ice skates for extra balance.  Skate rentals will be an additional cost to park admission; price TBA.
"The Polar Express 4-D Experience": Take an epic 4-D journey to the North Pole aboard the Polar Express but bundle up, becuase you'll experience aamazing multi-sensory effects including snow, fog and gusts of wind.  The movie will only be available Nov. 21–Dec. 31 so don't be late for the train…All aboard!
Tree of Lights with a Twist: Every night at 6 p.m. from Nov. 24 – Dec. 25, SeaWorld light up it's 320-foot (skytower) Tree of Lights and cue it to a musical broadcast courtesy of KyXy 96.5. The skytower tree lights will dance, flash, swirl and glow to holiday music broadcasted throughout San Diego.